---
The Boyfriend of the Week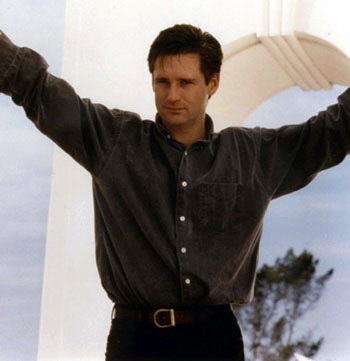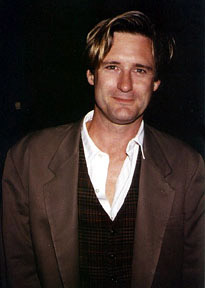 May 22, 2000
A reader emailed me a few days ago to request this week's Boyfriend and, as I have done with the other 60 gazillion of you who have emailed me to request this week's Boyfriend, I responded with an, "Oh yeah! I love Bill Pullman!" The difference is this time, instead of sending my response and then promptly forgetting all about him, I wrote a little sticky note that said, "BILL PULLMAN!!" on it and stuck it to my forehead. (Okay, okay, I stuck it to my computer. But isn't the image of me sitting around with a sticky note screaming BILL! on my forehead a lot more entertaining? And entertainment, after all, is what I'm here for.) (Carry on.)
Anyway, that seems to have done the trick. Because, ta-da! Here he is! Now, I feel I have to reiterate for all of you who wrote and are now happy as kitties on catnip -- I really do love Bill Pullman. And I'm terribly sorry I kept forgetting your fabulous idea until reader number 60-gazillion-and-one came along. But let's all say one giant loud and unisonic "THANK YOU!" to her, shall we?
Bill Pullman is fun. That's about the best adjective in the world to describe him. (Well, "sheepish" also works pretty well.) He's such an incredible chameleon that one can never be quite sure what to expect when he prances onto the screen (though you can always be sure it'll be good). Unlike Michael Madsen, you can't predict that Bill will be serious and gruff. Unlike Ben Stiller, you can't predict that Bill will be sarcastic and amusing. Unlike Harrison Ford, you can't predict that Bill will smile crookedly. Unlike Jackie Chan, you can't predict that Bill will kick your butt, do his own stunts, and break a bone. However, just like Constable Fraser, you CAN predict that Bill Pullman will make you weak in the knees. And the reason is this: dang, he's good-lookin'!
So, "good-lookin'" is also an apt adjective. And while we're at it, let's add a few more. How about charming, talented, and funny? Sweet, gentle, goofy, and silly? Intelligent, sensitive, serious, and not-very-tall (same height as me, apparently)! The list goes on and on (no, really -- have you seen at the latest unabridged Roget's?).
We're definitely not the only folks who think Bill is the best, either. Did you know that several of the movies he's starred in were written with him specifically in mind? "The End of Violence," is one. So is, "Lost Highway." But I haven't seen either of those yet, so I must refrain from making up commentary on them. However, I HAVE seen the third one. In fact, I've not only seen it, I've seen it THRICE. And I still love it! The third movie written specifically for Bill Pullman was "The Zero Effect," which I've got to say was one of the funniest movies I've ever laid eyes on. And it's heartening to know Mr. Zero was written with Bill in mind, for that must mean they have something in common, personality-wise. And were you not totally smitten with Mr. Zero?? Of course you were!
"The Zero Effect" aside, Bill's also been in a few other movies I have really enjoyed watching, and in every single one, our intrepid hero has played a character-type he's never played before. Examples: "Independence Day" (the president), "While You Were Sleeping" (sweet romantic lead), "The Last Seduction" (I forget, but I'm sure he wasn't sweet), "Malice" (naive husband), "A League of Their Own" (soldier returning from war), "Sleepless in Seattle" (fiancee plagued by hayfever), and "The Accidental Tourist" (I forget again, but I'm sure it was none of the above). Chameleon, I tell you!
Here's a little trivia and background (as well as some trivial background): Bill Pullman was born in Hornell, New York on December 17th, 1954. He was the sixth of seven children (jeez, and I thought TWO siblings was torture. . .Hah! Just kidding, guys!). For Bill's entire young life, he aspired to be one thing when he grew up and one thing only. And that thing was: a construction worker. No, really! He grew up in a small town that was riddled with barns that kept falling down and his life's goal was to stop that from ever happening to anyone ever again ("We must keep the barns alive! Save the barns!!").
Noble, really. Anyway, Bill graduated from high school and promptly entered a technical college to study the ins and outs of construction. While he was goofing around one day, he decided to follow a group of students to a drama club tryout, just to see what it was all about. Apparently, whatever the drama teacher said to rev up morale ("Are we men or are we mice?!") inspired the heck out of Bill and he decided maybe he ought to give acting a shot. What the heck, he said. It's gotta be more interesting than that class I'm taking on support beams. Besides, maybe some day I'll make enough money to own my OWN barn!
So, he transferred to NYSU, Oneonta, and got his B.A. in theater. Then he transferred to U. Mass, Amherst, and got his M.A. in directing. Then he started teaching theater and by age 27 he was the head of the theater department. (I bet you didn't know THAT.) Just as he became the department head, he decided teaching was for wussies and he packed up his stuff and moved to New York City to try to be a real live actor instead. He spent the next 4 years pumping gas, waiting tables, and making a bit of a name for himself in small regional theaters.
He was critically acclaimed numerous times over the next few years, particularly when he starred opposite Kathy Bates in ex-Boyfriend Sam Shepard's "Curse of the Starving Class." In 1985 (I was in fifth grade, by the way), Bill moved to Los Angeles to star in a play over there. He decided he liked the area (despite it's obvious lack of barns and other farm-related structures) (okay, okay, I'll stop with the barn thing!) so he hung around, this time adding some movie try-outs to his theater gig list. In 1986, he broke into film (shazam!) with his role in "Ruthless People."
The rest, as I always say (for lack of a better way to change the subject), is history.
Useless trivia: Bill Pullman is tall -- over six feet at least, which is the best news I've heard all day, frankly. And for the worst news? This: he's been married for eleven years and has three kids (I lump that into the "useless" catagory becase I certainly do not need to remember that later). Also, he has just about the worst handwriting I have ever seen. Don't believe me? Check this out. Bill built his own home (construction, see?) and, when he has free time, he likes to go hang out at the Montana ranch he co-owns with his brother so he can relax by driving some cattle, baling some hay, riding on the tractor, and castrating a few steers. (I made up those last two). My last bit of useless (yet FASCINATING) trivia for you is this: Bill Pullman wears his father's shoes to auditions for good luck. Isn't that cute?
In addition to the variety of roles I listed earlier, allow me to add the following (so you can truly appreciate the diversity of Bill's reportoire): Winnebago spaceship captain, Harvard anthropologist studying voodoo, doctor, lawyer, journalist, and vertical-blinds salesman. I bet he made a really great vertical-blinds salesman, by the way. That's gotta be a tough part to get into.
If you've already seen every single Bill Pullman movie ever made, then I have some good news for you. There are at least three more coming out in 2000! The first is a Nora Ephron movie called "Numbers" that is about a TV weatherman who scams a local lottery (he isn't the weatherman, though). The second is called "Titan A. E." and is a sci-fi cartoon about a young man who must find a way to save mankind after aliens destroy earth (he isn't the young man, though) (obviously: b. 1954). And the last is "Cadillac Tramps" and is being billed as a thriller. Don't know a dang thing about it except that the cast is cool. Benecio del Torro and Tom Waits are both Bill's co-stars! Now, there are three guys you don't normally think about at the same time, huh? Anyway, star or no star, Tom or no Tom, they're all sure to be interesting. At least when Bill's on-screen.
| | |
| --- | --- |
| | MacGyver Factor Score: 97.3%. Watch him shape-shift! From Winnebago spaceship captain to eccentric private eye, Bill never fails to impress. And that, my friends, is why he's my Boyfriend. Well, that and his hair, anyway. Oh, and his shy grin. Ooo! And his cute butt! And his eyes! His voice! His laugh! Eeeeeee! Mine! Mine! Mine! |