---
The Boyfriend of the Week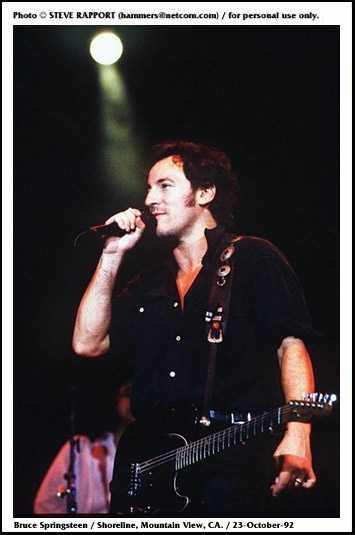 The original write-up for Bruce Springsteen was lost after I moved it into another directory without realizing it had the same file name as the write-up for Bruce Willis. Whoops. However, it's not like it's hard to get me to ramble on and on and on again about Bruce. It's certainly no challenge coming up with nice things to say about him.
I first discovered Bruce Springsteen when the rest of you guys did -- with the Born in the U.S.A. album. Unless you were waaaaay cooler than I was as a child (okay, it's pretty likely), you were still listening to Hall & Oates when Springsteen hit the big leagues and it wasn't until the video with Courtney Cox that you discovered there was somebody MUCH better looking than Darryl and John on the scene.
Oh my gawd, people, I was so jealous of Courtney Cox it made me spit (ptew!). Of course, back then, she was just another groupie, we all thought. Nobody anybody knew. And we certainly had no clue that they were RELATED. We all just thought he saw her in the audience and thought she was pretty and special (and pretty special) and yanked her up there and then fell madly in love with her and got married and the end and there go all my chances. Oh, to be seen in the audience and yanked on stage. I would've killed. I listened to "My Hometown" a million times over that year -- I also wanted to be the Kate he mentions in that one -- and pretty much wished upon Courtney Cox all the plagues of the Old Testament.
I didn't find out the true connection until about two years ago and I believe my reaction was to weep with joy.
However, no need to continue in that vein. There are more interesting things to talk about. So, anyway, "Born in the U.S.A." was my first taste of The Boss. And to be honest, it was my ONLY taste of The Boss until I got to college. I kind of gave up on him for a few years as a teen when I discovered my grandmother owned the same album I did and listened to it over and over. Jeez Louise. I heard a few more famous Springsteen releases on the radio and liked them well-enough, but I couldn't shake the image of my grandma dancing around the house to Bruce singing "Glory Days" and that made it hard to really get on the Bruce Bandwagon.
However, when I got to college I met a boy (a real boy) who showed me the light. And the light was an album titled "Nebraska," full of sad songs about crime, murder, death, and the people left behind when the American Dream passed them by. Doesn't sound too romantic, huh? Well, IT IS. Not the stories behind the songs, maybe, but the music itself is as beautiful as anything I have ever heard before or since. And that includes Beethoven's Sonata Pathetique. So there.
From Nebraska, I have done some branching out, though my real boy isn't that crazy about some of the other stuff Bruce has done. Whenever it rains and I'm feeling sad, I like to listen to Nebraska. It's the perfect companion in times like that.
Anyway, Bruce is not just a talented singer, of course. He is also a total babe. And he's not a bad role-model, either. Bruce was born into a working-class family in Freehold, New Jersey in 1949. He and his father had a volatile relationship, mostly because his working-class dad didn't want his son to forego a real job in favor of a "career" in the rock and roll biz. But Bruce never let his father's negativity stomp down his dedication to his goals. He joined his first band in the mid-60's (The Castiles) and quickly gained a reputation as a kind of East-Coast Jimi hendrix. He went out West and got a record deal. In 1975, "Born to Run" was released and it so took the world by storm that Bruce suddenly found himself on the covers of both Time and Newsweek. A little startling for a middle-class boy from Jersey. When he was inducted into the Rock and Roll Hall of Fame 25 years later, the ballot for his inclusion read in part, "Bruce Springsteen's arrival as a major rock figure began when Time and Newsweek ran simultaneous cover stories on him in 1975." Bruce was officially inducted on March 15, 1999.
He's had a career full of troubles -- contract troubles, personal troubles, and some serious ups and downs in his success levels. But the best thing about Bruce Springsteen is that despite the fact EVERYBODY IN THE WORLD knows who he is, he's still just a regular guy underneath that face and that voice. And that's what I admire about him the most. He hasn't let the hoopla affect him at all -- in fact, I've often wondered if he's noticed it exists. Sometimes I suspect he doesn't give a damn if he makes any money and he doesn't give a hoot about being "a star" -- Bruce just wants to play music and he doesn't seem to care where, when, or for how much. That, my friends, is very very cool.
So, there's my replacement write-up about Bruce Springsteen. I think it's pretty much what I said the first time, though the first one may have mentioned his very nice butt as well. Did I mention Bruce still has a very nice butt? That's pretty admirable too, for a guy born in the 40's. Shake it, but dooooon't break it!
MacGyver Factor Score: 95.4%. I took points off because I've dated a few musicians in my lifetime and I can attest to the fact they are generally a huge pain in the arse. I put points back, though, because it's pretty worth it when they get up on a stage and start singing their hearts out about you. Or, even if they just get up in the living room and make up a song about you and your lost VISA card ("Meeeeeeg, lost her VISA caaaard. Again. Again. Again.") It doesn't really matter what they sing as long as you know they would pull you up on stage with them, if only you weren't standing in the back with your friends drinking a cocktail. Having the option of being a modern-day Courtney Cox is always a good thing.
---
Back to my Homepage.