The Boyfriend of the Week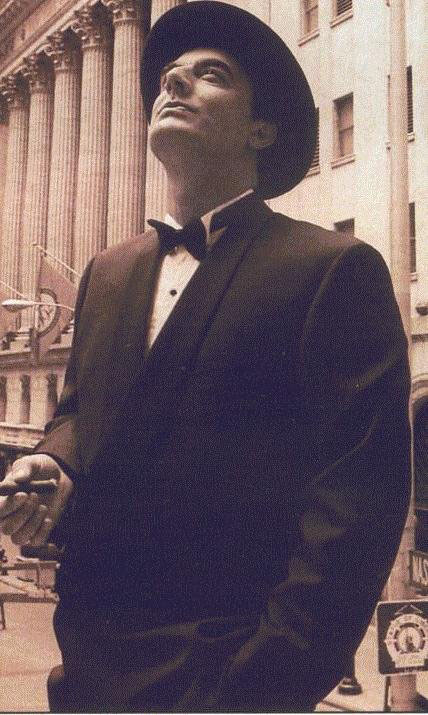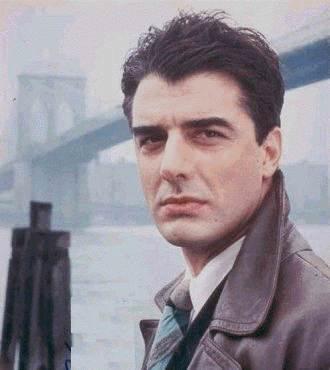 August 21, 2000
This week's Boyfriend, Chris Noth, was inspired by a week spent suffering (and recovering, I guess) from a brutal sinus infection. What does Chris have to do with sinuses? Nuthin'. Except that his old television show, "Law & Order," comes on TV approximately 62 gazillion times a day, and I watched just about every episode that aired for five straight days.
It was the extra daily viewings that must've done it, too, as it's not really unusual for me to watch L&O reruns. I probably watch two or three a week, in fact. But for some reason, the 61 gazillion extra exposures lit my Chris Noth fire. And so, here we be.
Now, Chris' character on Law & Order, Mike Logan, hasn't been on the show for many years, except for that one L&O movie, "Exiled," which I think came out two years ago or so. And I watched it, too, but at that point, I wasn't really a serious fan. Here's hoping it's rerun soon, as two hours of Mike Logan and Lennie (I love Lennie) sounds pretty good to me right now. It being Monday, and me being back at work for the first full-day in quite a while.
I miss TV already. Even though I loathed every minute of it when I was home sick. Isn't it funny how that works?
Anyway, since L&O, I haven't seen Chris at all. But not because he isn't around. It's because his current role, which is getting him lots of rave reviews, is as "Mr. Big" on HBO's "Sex and the City," and I'm too cheap to spring for pay channels. Actually, come to think of it, his role in "Sex in the City" is another thing I heard about last week that piqued my interest. Well, "heard" is the wrong word -- what really happened is I came across this photo in a magazine I was reading. And there's just something about the way Chris is holding Sarah that I find really sexy. I think it's the nonchalance. I mean, if he can look that totally cool, calm, and collected while holding a total babe like SJP (who is also practically nekkid) (this photo is rated PG-13, by the way -- those of you who need to censor yourselves know who you are), then this is a very rare and interesting man I see before me.
Now, other than the nonchalance (which is a characteristic Mike Logan shares with his pal Chris Noth, incidentally), I can't really figure out what it is about CN that attracts me. Facially-speaking (if we can speak facially), he's not really what one might describe as "babe-a-licious." He's not even "hunky." Or "cute." Not "good-lookin'." Not "gorgeous." And not exactly "handsome." Singularly (if we can speak singularly), each of his features is really nice -- his thick eyebrows and hair, that crinkly wrinkle between his eyes, his very "chiseled" nose (a polite way of saying "large and impossible not to notice"), and those fantastic cheekbones. Put them together and they almost clash. But one thing about Chris you can describe as "hunky" is his voice. Woo, that voice -- so distinctive and Eastern (as in Thirteen Colonies, not Japan). So smooth and deep. I love it.
Oh wait, you can describe two things as hunky -- his voice and his shoulders. Woo, those shoulders -- so distinctive and Eastern. So smooth and errrr, or something.
A little biographical information on this week's Sweet-Pea: he was born in Madison, Wisconsin in 1954 to a former CBS reporter, Jeanne Parr, and a guy named Charles Noth. His parents divorced when Chris was young and he spent his youth traveling around the world with his mother, living in England, Yugoslavia, and Spain. Ole!
Chris is a graduate of the Yale drama school and his first film appearance came in 1986. It was a film called "OffBeat" and he had the small part of "Ely Warham" (the brother of Meg Tilly's (ick) character). This means absolutely nothing to me, as I've never heard of it. Now, after OffBeat, Chris continued to show up in bit parts of small movies (including a favorite of mine, "Baby Boom," and while I've seen it a dozen times, I have no recollection of him being in it -- must've been a VERY small part). Eventually, though, he got a pretty decent-sized role in the movie "Jakarta," which I also haven't seen (get hot, Meg!), and in 1989, he was offered the role that made him a household name -- Mikey on Law and Order.
Chris played Mike for five years (1990-1995) and then left the show to pursue other acting roles. He showed up in a bunch of television movies, some of which I've seen and only one of which was very good ("Exiled," the L&O one, which, incidentally, Chris co-wrote with a close friend of his). And at the same time, he did a TON of stage work, including "The Heiress" with Amy Irving (I love her) and "Hamlet." He also did a bunch of books on tape ("Kiss the Girls," "The Thirteenth Juror," and "Saving Faith") which I will have to look for because listening to him talk is one of my favorite leisure-time activities at the moment.
As I mentioned earlier, Chris is now playing "Mr. Big" on "Sex and the City" -- Mr. Big is the "on again off again love interest" of SJP's character, Carris Bradshaw. It was this show that eventually got Chris a Golden Globe nomination, though he didn't actually win. Those morons.
Chris is not married (yay!) but has been seen dating lots of very pretty chicks. So, I'm not sure what kind of shot I actually have here. Plus, he lives in New York City (which is pretty far from here) and is the co-owner of a night club there, so it's not like he doesn't have an opportunity to meet nice ladies. By the way, the club is called "The Cutting Room" and if you are over-21 and in the neighborhood, you ought to drop by and try and get me an autograph. Or phone number. Or smooch. I'll take anything! I'm not picky!
Coming up for Chris is a series for CBS, which he is in negotiations to write and star in, and a TV movie, as well. I am looking at his IMDB page right now (by the way, he was the "yuppy husband" in "Baby Boom" and now I remember who that is -- one of the icky people who go into the little country store and snatch up all the baby applesauce and get the whole ball rollin' for Diane Keaton) (if you've never seen the movie, you have no idea what I'm talking about right now) (obviously) -- looks like he's also got three feature films due out in 2000 -- "Cast Away" (with Tom Hanks -- about a FedEx executive who crashes on a deserted island), "The Glass House" (a thriller about a teen taken in by a Malibu couple who turn out to be evil), and "The Acting Class" (which I can't find a description of, but which appears to star a lot of famous people "as themselves" -- Jerry Orbach (Lennie!), Benjamin Bratt, Alec Baldwin, Courtney B. Vance, etc. -- strange!). This is good to know, as you can't always trust the L&O rerun to be a Mike Logan one and the disappointment can be pretty hard to take (though it's eased significantly by the fact that if it isn't a Mike Logan one, it's probably a Rey Curtis one (Benjamin Bratt)). I'm just glad to know he's not going anywhere. It gives me time to plan my trip to New York and sweep him off his feet. Yay!
| | |
| --- | --- |
| | MacGyver Factor Score: 94.6%. Points off because those yuppies in "Baby Boom" were really annoying. I truly believe that people like Chris Noth should refuse to play annoying characters in films. It really does much more harm than good, after all. With me, anyway. |
---
Boyfriend-Related Links
The Chris Noth Information Exchange
The NBC Law and Order page
A Text-Only L&O Episode Guide
The HBO Sex and the City page
---
---
Back to my Homepage.