---
The Boyfriend of the Week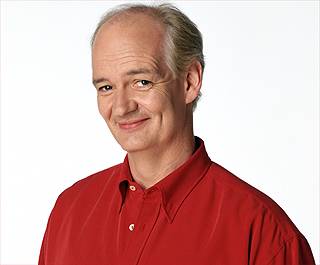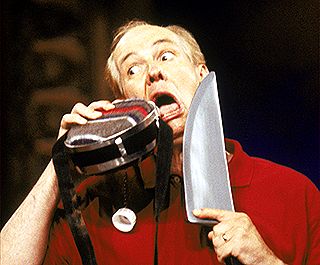 November 13, 2000
This week's Boyfriend is one I've been planning to do for a really long time now. Like, for about 8 years. Ever since I saw my first episode of "Whose Line is it Anyway?" on the Comedy Channel, way back when, when it used to be a BBC production.
Even in those days, Colin was absolutely ridiculous looking (even more so because he had more hair), and that's precisely what attracted me to him. Colin Mochrie can make me laugh just by lookin' at me. Especially if, when he looks at me, he also arches an eyebrow, screws up his face, and sticks out his tongue.
Now, obviously, Colin and I haven't actually done any hanging out face to face, because why would a Boyfriend ever want to contact me personally? (Sarcasm, the last refuge of the desperately bitter.) But I do hang with Colin every Thursday night from 8-9pm on ABC, because that's when one of the funniest shows ever to cross your TV Guide is on. And no, the show to which I refer is NOT "Friends."
If you haven't seen "Whose Line is it Anyway?" I urge you to check it out. And even before you do that, you should check out my write-up on another Whose Line guy, Wayne Brady. Why? Because that will save me the time it would take to explain what is so dang funny about WLiiA. And time, my friends, is money. Especially now that I have a wedding to plan.
Colin Mochrie, on the other hand, is not money. He is FUNNY. Hey, that rhymed! Just like I did it on purpose, too. What makes Colin funny, in my opinion, is the perfect combination of intelligence and a sense of the absurd. Mix smart with ridiculous, and what you get is Colin Mochrie. Throw a little je ne sais quoi (translation: "I dunno what") in there, and what you get is Colin Mochrie, and Meg, glued to the television every Thursday night. What it is about Colin that I find attractive, I can't quite put my finger on. It's not exactly his looks, which are more "adorable" than "sexy." But it's something about his looks, maybe his lips? His silly grin? His cute bald head?
Did you see the episode last season where Colin was playing the game wherein he stands in front of a blank screen that everybody else sees a movie or newsreel playing on, and two of the other players attempt to drop him enough subtle hints that he can guess what is going on behind him -- only what was going on was a collection of the funniest WLiiA Colin Mochrie moments? I would KILL to have that montage on tape. I can't remember when I've laughed that hard. And despite the fact there was no sound (and Colin is even ten times funnier with sound), his facial expressions and bodily contortions were just hilarious. If you missed that episode, you might never understand why I can use the word "sexy" and "Colin" in the same sentence. There is something unavoidably attractive about a man who can make you laugh that hard.
Of course, it doesn't hurt that he's Canadian. One step closer to the Constable, you see. I need all the Canadian Boyfriends I can get!
A little background on Mr. Mochrie. Colin was born November 30, 1957 in Kilmarnock, Scotland. Seven years later, the family moved to Montreal and then eventually to Vancouver (only three hours from me! Hurrah!). He went to theater school in Vancouver for four years and then got involved with improv through the local Theatresports league. Later, Colin attempted to live in Los Angeles for a spell, but missed Canada too much and had to go back (I'm sure it was the Mounties he missed most -- and I can totally understand that). In 1989, he married Debra McGrath and the two of them now have one son, named Luke.
But Colin hasn't only done improv and theater stuff. He's also been in a few movies. For example, he had inarguably the best line in the dog "Space Hunter: Adventures of the Forbidden Zone." Coincidentally, it was Colin's ONLY line. That line was "You can ask the chemist." Just don't ask ME, because I didn't actually see the movie (I'm just assuming it was a dog -- look at the title! Now add Molly Ringwald and 3D special effects!).
He's also had small roles in some other movies, including "The January Man," which stunned the heck out of me because I've probably seen that movie 600 times and I have NO IDEA where he is in there. (Character's name is "Pat" -- if you know where in the film Colin's character shows up, please email me and fill me in!) Colin says he is actually planning to do many big movies. "Unfortunately, no one is planning to hire [him] for one." Them fools! But, really, we'd hate to lose Colin to the big screen, wouldn't we? There's just no one who can fill his shoes on WLiiA.
Colin has said he considered himself to be pretty much a loner throughout his childhood days and he says he still suffers from the shyness that played a role in that loner-dom. But when he got a role in the school play at age 16, playing an undertaker in a comedy, he realized that being onstage and hearing that laughter was more addictive than anything he'd ever encountered. So, he gave up his dream of being a marine biologist or chef (no, really!) and threw himself into acting 100%.
Well, maybe 95%. He still does a lot of cooking, and you can even get some of his favorite recipes off the web. Banana bread is one of them, I think. And maybe some kind of cookie? Now, is that not sexy or what? He's smart, he's funny, and he COOKS.
By the way, in case you're too provincial to know this, Colin is actually a much bigger tv star in Canada than he is here. He has his own television seres up there and it isn't even his first. Currently, he is appearing in episodes of "Blackfly" in Canada, as well as hosting "Offbeat World" (a travel series). He's also doing voice-over work for "Seven Little Monsters," though I couldn't figure out what that was (tv or movie?).
More trivia: Colin has known Ryan Stiles (also on WLiiA) for over 20 years. In fact, Ryan was the person who introduced Colin to his wife. Colin's son's favorite Whose Line contestant is Greg Proops (his dad just embarrasses him, supposedly) and did you know Colin actually had to try out for Whose Line twice before getting the part? Insanity! How could they turn down Colin Mochrie, the funniest Canadian in the world, not to mention valedictorian of his high school graduating class!
For more trivia, some of Colin's recipes, and a really funny interview, check out the web sites listed below. Great sources of info, photos, and zany-ness.
And then make sure that you tune your tv (or vcr at the very least) to ABC on Thursday nights for "Whose Line is it Anyway." If you don't even get a single chuckle out of it, there is something seriously, seriously wrong with your funny bone. Or else there's something wrong with mine, which seems highly unlikely since I am the funniest person in the world. No, really! I truly am!
| | |
| --- | --- |
| | MacGyver Factor Score: 96.2%. I have to take points off like this for every Canadian who has had the opportunity to become a Mountie and has just let it go by without even trying. We need more Mounties, people! In fact, we need Mounties here in America. You can bet that if Mounties had been in charge down in Florida last week, we'd have a President-Elect by now, for one thing. And for another, those red uniforms could do wonders for national morale. So, if you are Boyfriend material, keep in mind that the RCMP uniform can score you more points here on the site. It's good to plan in advance for your debut, you know. Wear the uniform, carry a pocket knife around, and teach yourself how to smile crooked. You'll be in like Flynn, my friend, in like Flynn. |
---
Boyfriend-Related Links

The Colin Mochrie Corner
A Photo Tribute to Colin
Colin's IMDB Page
ABC's Whose Line page
---
Back to my Homepage.