The Boyfriend of the Week
Edgar Martinez!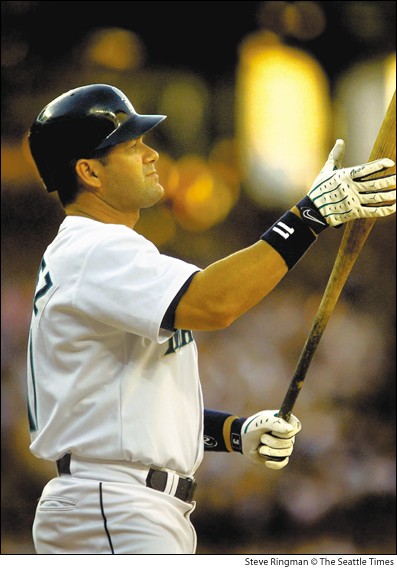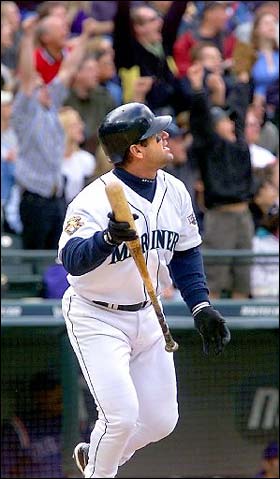 "It's a light bat!"
Okay, so Kevin Kline ended up being the Boyfriend of the Week two weeks in a row. And NO, he never called me. But that's okay. I still love him. This week's Boyfriend is even better than Kevin, though don't tell him I said that, please. It's Edgar Martinez! Looking around on the web today for a nice photo of the only baseball player who makes me swoon even when he strikes out, I found out a lot of verrrrrry interesting things about his life off the field. For example, he owns his own company. Betcha didn't know that. Embroidery, I think. Also, he's written a childrens' book called Patience Pays. He also used to have his own little web page (www.edgarzone.com), but it appears to be defunct now (bummer!). Still, all in all, a very active hombre!
Edgar Martinez is not only cute, sweet, and nice, but he also got whacked in the head with a flying bat, took five stitches, and then got up and hit a single. Now that's baseball, my friends. I'm tempted to say something cheesy like "you gotta love this guy" but he's worth more than that. Edgar, if you're reading this, I'm 5'9" with short blonde hair and a Master's degree and my phone number is in the book, baby. And yes, I know you're married. But all I'm asking for is ONE LOUSY DATE! Or one terrific date. In any case, I just want an Edgar kiss on the cheek.
| | |
| --- | --- |
| | Today we start a new feature for the Boyfriend of the Week section -- the MacGyver Factor Rating Scale. Now, those of you who know me know that I love MacGyver best of all and always will (sorry, Edgar darling, but I've got to be honest here). But that doesn't mean I can't love other people almost as much. So I start the MFS. A score of 100% means that you ARE MacGyver, so don't go aspiring to that unless your real name begins with Richard, ends with Anderson, and has a Dean in the middle. Anything less than about 30% means you don't have much going for you, but if you're on this page, there must be SOMETHING to love. Kevin Kline gets a 75%, maybe even more if he wrote down my number. Edgar gets an 80% whether he toyed with the kiss on the cheek idea or not. Cuz I mean, just LOOK at him. What an incredibly cutie! Plus, I have a baseball card with his stats on the back and I just know he lied about his weight. That's so adorable! |
---
Back to my Homepage.