The Boyfriend of the Week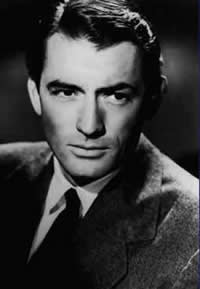 1999 (original write-up)
June 13, 2003 (revised write-up)
Ah, Gregory Peck. One of the oldest Boyfriends I've ever had, and I don't mean that in terms of age (though at 87, that too). Instead what I mean is that he's been a man I've been madly in love with since I was too young to know what "madly in love" actually meant. Ever since I first saw "To Kill a Mockingbird" as a kid, I've been a huge admirer of Gregory and his talents. And, most especially, his Atticus Finch. That movie became my favorite movie of all-time the moment I saw it and its status has never changed (though, just as a bit of trivia, the movie "Jaws" is a close second for me).
Atticus Finch is a man I wish all men could be. A smart, sexy, decent guy. An excellent father. A person concerned with fairness and justice, almost to a fault. A good man. A. Good. Man. And, I have to admit, ever since I saw him embodied in the body of Gregory Peck, I've associated his character with Gregory's. I don't actually know much about Peck in real life, but I'm happy to say that upon doing research for this write-up, I've finally discovered the truth about him -- he WAS Atticus Finch. Down to his very core. He put everything he had into that part -- it became a part of him. It was even his own favorite of all his movies throughout his career. And it's no fluke that six years after that movie came out, Greg was awarded the Motion Picture Academy's Jean Hersholt humanitarian award.
I read an article somewhere, sometime that described Gregory Peck as having a "quiet dignity." I think that's an excellent way to describe it. And it's something that you can feel radiating off of him every time you see him move across the screen. Regardless of the part he played, he always brought to the role a charm and heroism that was impossible to ignore. His few attempts at playing unsympathetic roles were usually dismal failures (think Josef Mengele in "The Boys from Brazil" or Lewt McCanles in "Duel in the Son"). The reason for this had little to do with his ability or inability to act, and more to do with the fact that no matter what he said or did, it was impossible to look at him on screen and not think, "Now there's a guy I'd love to bring home to my mother."
As for ability or inability to act, I think I can settle that argument by pointing out another fact about Gregory Peck -- in the first five years of his career in Hollywood, he was nominated for an Academy Award four times. Numerous films he starred in won Best Picture, and Peck himself was awarded an Oscar for Best Actor for "Mockingbird" in 1962.
As for his role as a humanitarian, his list of good deeds is lengthy. He was the National Chairman of the American Cancer Society in the 1960's. In 1968, he was the one who decided the Academy Awards ceremony should be postponed, in respose to the assassination of Martin Luther King. In 1969, he was awarded the Presidential Medal of Freedom, the nation's highest civilian award, by Lyndon Johnson. In the 70's, he was the Chairman of the Motion Picture and Television Relief Fund. In 1980, worried that 600,000 jobs might be lost if the Chrysler Corporation went under, he volunteered to become an unpaid TV pitchman for the company. And the list goes on and on. And on and on.
In 2003, the American Film Institute ranked him as number one in their list of the top heroes in film history.
But all these awards and such kind of gloss over the best part of Gregory Peck -- how absolutely entertaining he could be on-screen. "To Kill a Mockingbird" is a serious drama, but Gregory also starred in a wide variety of other kinds of films. There was his part in the romantic comedy "Roman Holiday," for example. Or his exciting turn as an Allied soldier in "Guns of Navarone" (which he describes as "good, all-out entertainment, thought it's really a comedy"). And let's not forget "Captain Horatio Hornblower," or his parts in Hitchcock films such as "Spellbound" and "The Paradine Case." He was a priest in "Keys of the Kingdom," a combat hero in "Twelve O'Clock High" and "Pork Chop Hill." A cowboy in "The Gunfighter." A war leader in "MacArthur," and even Abraham Lincoln in the TV miniseries "The Blue and the Gray." You want variety, you need look no further than the Gregory Peck section of your local video store, that's for sure.
And his real life, it turns out, was no less varied than his screen life. He was born Eldred Gregory Peck on April 5, 1916 in La Jolla, California. His mother was a lively Missourian and his father was a quiet pharmacist. But their relationship was troubled and when Gregory was only 6, they divorced. The next two years of his life were spent shuttling back and forth between the two of them, until they finally shipped him off to his grandmother when he was 8. At 10, he packed up his stuff and set off for a Roman Catholic military academy in Los Angeles, where he was "indoctrinated by tough Irish nuns and square-jawed ROTC officers" (wow, what a combination!).
He majored in English at the University of California in Berkeley and began studying medicine shortly afterwards. But one day, he was stopped by the director of the campus theater and asked if he would consider taking a role in one of their plays. The director needed a tall man to play the lead in his stage adaptation of "Moby Dick." Gregory agreed to give it a shot, and was quickly hooked on the rush that acting gave him. He ended up doing five more plays with the theater, then headed for New York with $195 and a dream. After struggling for a few years, working small parts by night and dull jobs by day, he finally made his Broadway debut as the lead in Emlyn Williams' "Morning Star." The play was a dismal failure, but Peck's performance intrigued a few Hollywood bigwigs, who offered him a part in a modest film called "Days of Glory," about Russian peasants during the Nazi invasion. Shortly after that, Darryl Zanuck offered him the priest part in "Keys of the Kingdom," and before Gregory even knew what had hit him, he was under non-exclusive contracts to four studios. With most of the famous male stars off fighting the war, the studios were desperate for leading men. Peck was a good bet -- a back injury would keep him out of the service, and he had the looks and talent to carry a film by himself. It was a wager well-placed, as, obviously, Gregory Peck soon was one of the biggest names in movies.
Peck was married twice, with an amicable divorce ending the first marriage and the second marriage lasting from 1954 to the present. He has several children, many of whom are actors themselves. And though the last decade hasn't brought much work his way, he remains an actor that everybody knows by name. He's a classic. And through his varied and extraordinary body of work, he's a classic who will live forever.
As most of you know, I first featured Gregory as a Boyfriend way back when this site first started. I revised his original write-up today because I've just found out that his career is over for good. Gregory Peck died earlier this week, at the age of 87, with his wife by his side. I wish I'd had more time to work on this revision, actually, because I still feel like it's just not written quite right. But I want to get it up now and not spend days perfecting it. I want the world to know now, while the thought of his passing is still fresh, just how much I loved him and his movies. In my original write-up, I cracked that I was really only in love with the young Gregory. That the old Gregory just didn't do much for me. His shock of white hair, his somewhat cranky wrinkled face. His stoop. His age. I was young and foolish when I said that though. Because no matter how old he was, he was still the same Gregory Peck who wooed me off my feet the first moment I laid eyes on him. I'll always be in love with Gregory Peck. And his death is something that has affected me pretty strongly. If you haven't seen many of his films, now might be a great time to go for the experience. Start with "To Kill a Mockingbird" -- it will put you in the mood for love. Forever.
| | |
| --- | --- |
| | MacGyver Factor Score: 99.99% Yes, his score is a lot higher than it was in the original write-up and maybe part of that is pity points. But I think a more legitimate way to put it would be thus: upon hearing about his death, it made me really think about his life. And it made me really realize how huge my crush on him really was. I should've appreciated him more while he was still here. But appreciating him this much now that he's gone is the best I can do now. He will be missed. |
---
Back to my Homepage.