The Boyfriend of the Week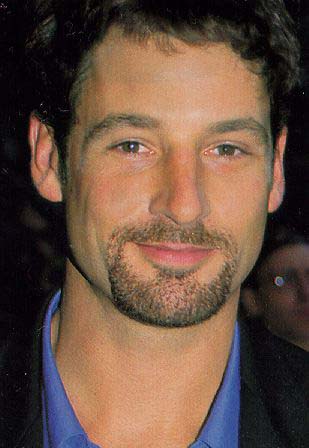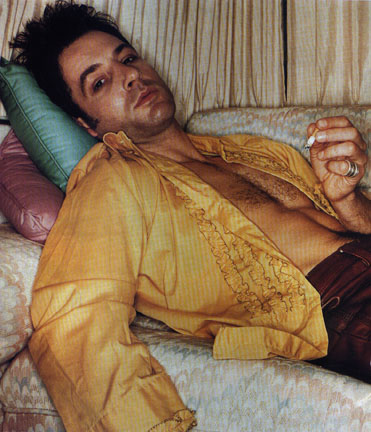 July 16, 2001
For this week's Boyfriend, you can thank the number of readers who have written in requesting him. Not that I hadn't already seen a few of Jeremy Northam's movies. I had. I just hadn't really noticed him. You see? This is why I like you guys. Just think of the Boyfriends I would've missed out on if not for you!
Probably the first Northam movie I ever saw was "Mimic," a great sci-fi thriller starring Mira Sorvino, about a gigantic bug terrorizing New York City. Sounds great, doesn't it? It is! Jeremy Northam plays Mira's boyfriend (lowercase "b"), but even though he has a fairly large role in the film, I didn't really notice him until I saw the movie again a few weeks ago.
When I looked him up after that screening, I realized I'd also seen him in "The Net" with Sandra Bullock (another thriller, this time about Internet terrorism). He played a pretty big part in that one too (the villain!) but I don't remember thinking "Wow, he's cute" at the time, possibly because I was actually thinking, "Wow, what a scumbag!" I recently rented that one again just for review, and also checked out a few of his other movies that I knew for sure I hadn't seen already.
And this time, "Wow, he's cute" was the LEAST of my exclamations. Woo, mama! Not only is he super cute, but he's talented, too. He can play evil and he can play sweet -- and the dangerous talent is that he can do them both at the same time! I love it when that happens.
Of the ones I rented, I liked "The Net" and "Happy, Texas" the best. While "Happy" is a goofball of a flick, it's pretty funny and Jeremy is a big silly sweetie in it. It's about two cons who hide out from the police by stealing a trailer and taking the place of the original owners -- beauty pageant coordinators who also happened to have been a gay couple. The only problem with that is that our two cons don't know a single thing about beauty pageants, and one is a homophobic, while the other almost instantly falls in love with the town babe. Whoops!
"The Net" is just good, clean Sandra Bullock fun. A pretty decent thriller, and one that really does get you kind of thinking about the role computers play in our lives today -- and just how easy it is to mess it all up with the push of a button!
I also rented the Jane Austen movie "Emma," though this was my second attempt at watching it and I failed this time too. Nothing against Jeremy -- I could see where his part in it was heading and it was definitely in a good direction. But Gwyneth Paltrow just makes me nuts by about the tenth minute in every time. It's weird because I ordinarily don't mind her too much. But something about her in this role is just like cat claws on glass to me. Yeesh. Still, everybody knows I'm strange, so don't dismiss this one just because of me.
By the way, I meant to rent another one of Jeremy's movies, "An Ideal Husband," just because I know that one is going to be good, but I discovered I could get it for free at the local library, so it's going to be a week or two more before the hold comes through for me. I'll be sure to report back once I see it. Can't go wrong with Oscar Wilde!
A little biographical information on Jeremy (and I do mean a little -- there isn't much to be found out there): he was born in Cambridge, England to two professors at the University. In 1972, the family moved to Bristol. Jeremy was heavily influenced by his father, John, who was a literature professor, and, as a result, he too went on to get a degree in English (at London University). While at school, however, as often happens to our Boyfriends, Jeremy discovered acting. He went on to train professionally at the Old Vic Theatre School and eventually progressed to the London stage. Rumor has it he got his first real start when a nervous Daniel Day-Lewis suffered a meltdown on-stage during a production of Hamlet and Jeremy was called in to cover for him. Not too shabby, no?
Up next for Jeremy is "Possession," also starring Gwyneth, the movie based on the relatively famous A.S. Byatt novel about a pair of literary sleuths who unearth the "passionate secret" of two Victorian poets, only to find themselves falling in love with each other in much the same way. After this one comes a smaller part in the next Robert Altman movie, "Gosford Park." Then, the role I'm most eagerly anticipating -- a part in the next Tom Stoppard movie, "Enigma," which is about WWII code crackers. Lastly, watch for Jeremy to show up as the star of "Company Men," a thriller due out in 2002, also starring Lucy Liu.
Well, okay, so it's not much. But it's not nothing either. And while Jeremy Northam still doesn't tend to show up in the number one positions of most of the movies he's in, he's always a great joy to behold when he does saunter onto the screen. Additionally, now that I know who he is, I'm much more likely to notice him when he does show up in a film. A big step forward for our relationship.
| | |
| --- | --- |
| | MacGyver Factor Score: 99.6547823587%. I know, I know, seems like a pretty high score for a guy I didn't even recognize 6 months ago. But you guys, he is just soooooo cute. And, not only that, he's 6' 2" tall! Tall and cute! With dark hair and a cool accent! Does it get any better than that? Methinks is no. |