The Boyfriend of the Week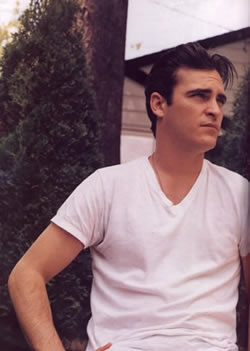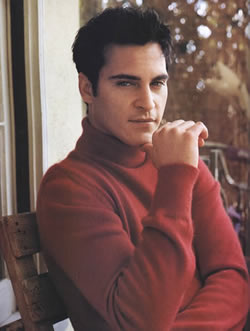 August 13, 2002

Well, finally, I have returned. And when you see this week's Boyfriend, as, uh, you just have, I hope you understand why I didn't want to slap up something super-fast without taking the time to truly savor this experience.

Okay, okay, actually, the REAL reason why I had to keep delaying this week's write-up was that I was having a devil of a time renting some of Joaquin Phoenix's old movies! I had to go to three places to find one of my all-time favorites, "Space Camp," and then I had to wait a week for someone to return one I hadn't ever seen, "The Yards."; Boy, you'd think that living in a big city would mean you could easily get your hands on any movie you wanted. But you'd be soooooo wrong. Ever since Kozmo.com went the way of so many other dot-com ventures, my life has been a living hell. A living hell we here on earth like to call BLOCKBUSTER.

Lucky for you guys, I've actually seen almost every single movie Joaquin's ever made, and many of them twice. And a few of them three times. And one or two even more like FIVE times. And this includes all the movies he made back when he was calling himself "Leaf," by the way. You can't not count those, that's for sure. "Space Camp," for example, was my first, and it remains my favorite (he's just so cute!). But I never really had a crush on Joaquin until about 1995 when I saw him in the movie "To Die For." It's a freaky film about a woman who tricks two young boys (Joaquin and his best friend Casey Affleck) into helping her kill her husband so she can become a successful weather girl. But dang, weirdness aside, Joaquin was just DARN SEXY.

Or, wait, maybe it was Nicole Kidman who was sexy. I forget. Either way, I remember leaving the theater all riled up about something.

Later, when I saw Joaquin with ex-Boyfriend Vince Vaughn in the hilarious and kooky "Clay Pigeons" (also starring girl crush Janeane Garofalo), I knew I was sunk. But I resisted this crush for years anyway, out of a misguided sense of guilt. You see, for decades as a youth (okay, okay, A decade as a youth), I was truly, madly, deeply in love with Joaquin's older brother River. You remember River, right? Blonde, gorgeous, talented, and kind of dark? When River died, I was pretty devastated. I mean, I didn't really know him, so how devastated could I actually be, right? But it still felt kind of strange confessing to a crush on his baby brother. I mean, it was all just too Lifetime Television for Women for me.

Finally, however, I have officially gotten over the hurdle. Because try as I might, I can't resist the charms of the wily Joaquin. And every movie he makes that I see just makes it harder and harder to pull back. I'm a goner. I'm sunk. I'm doomed to rent "Space Camp" over and over and over every month from now until the apocalypse comes.

What do I like about Joaquin? Well, first off, there's his attitude. He seems like one of those quiet, intense, smart, kind types. You know what I mean? Sure, he can swagger with the best of them. But in most of his movies, even when he's a bad guy, he's kind of charming in his own way. A little unsure of himself. A little self-conscious. (With one exception: his character in "Gladiator" was absolutely detestable -- yeechy, even -- and had it not been for the fact we get to see so much of ex-Boyfriend Russell Crowe's upper body in that movie, I would rue the day I ever laid eyes on it). He seems like a gentle person. With, you know, a controlled streak of deviousness in there to help spice things up from time to time.

And also, there's his voice, which crackles in a cute adolescent way every now and then. And there's also his hair, which, yow. And then there's his, well, then there's the rest of him. Which. . . uh, well, we'll have to talk about this in private sometime. When there aren't as many young people reading. Know what I mean? Cuz I mean SHAZAM.

A little background: Joaquin Rafael Phoenix was born on October 28, 1974 in Puerto Rico. He's the middle child, with two older and two younger siblings on either side. When Joaquin was growing up, his family moved almost constantly, traveling through Central and South America, where his parents were missionaries. The family adopted the last name "Phoenix" at this time to celebrate their continual new beginnings (father's original name was Amram, mother's was Jochebed). By the time Joaquin was six, however, his parents decided it was time to settle the family down. They moved to Los Angeles, where his father did work as a landscaper and his mother took a job as an NBC secretary. All five kids were interested in acting, so Joaquin's parents hired an agent to represent the entire gang and they all quickly began to get work in commercials and television (though they were not allowed to be in any ads for meat, milk, or junk food -- all were raised as strict vegans).

River was obviously the most successful actor in the family during this period, starring for a time in a television show called "Seven Brides for Seven Brothers" and then quickly moving onto films. It was on "Seven" that Joaquin got his first real acting role, working with his brother on an episode in 1982. The two worked together again two years later in a TV movie about dyslexia, which led to several more TV movie roles for Joaquin. In 1986, he landed his first major film part, as the young Star Wars fanatic in "Space Camp," which I wholeheartedly recommend.

Soon after the release of Joaquin's movie "Russkies," the family moved to Florida. While River's future in Hollywood seemed secure no matter where his homebase was located, Joaquin was worried the distance from Tinseltown would pretty much do his career right in. However, as luck would have it, Universal Pictures had just opened a studio in their area and he was cast almost immediately as the troubled teen in the Steve Martin comedy "Parenthood."

His performance in "Parenthood" was very well received. However, Joaquin felt frustrated with the types of roles he was being offered and decided he wanted to see the world a bit before really focusing on his work. So, he took a self-imposed six year hiatus from film work, traveling around the world and spending some time with his father (his parents now divorced) in Mexico. He was thrust back into the public eye a few years later when his brother River died right in front of him at the Viper Room of a drug overdose. Joaquin called 911 to get an ambulance, and that call, much to his horror and disgust, was then recorded and broadcast over the television and radio about a gazillion times over the next several weeks. It took Joaquin a long time to pull himself back together after the loss of this brother: "After River's death, I felt like I was in an altered state. It took me a year to get my life back." Months later, his friends began to pressure him to read scripts again. Joaquin finally ran across one that seemed like the right part for him at the time -- the role in "To Die For."

His performance in that film was widely acclaimed, as was his next role in "Inventing the Abbots" (which also scored him a girlfriend, Liv Tyler, whom he dated for three years). But it wasn't really until he made "Gladiator" that the general public really started to notice him. To make his character in that movie realistic, he gained weight and cultivated a nasty complexion. Both of which he quickly reversed for roles in "The Yards," which he says is one of his favorites of his own films and is the only one he'll actually watch, and "Quills."

Then, of course, there's his latest movie, "Signs," which opened in theaters last week. I was hoping my delay would give me time to go see it before I posted this write-up, but it didn't. Why? Because I'm a loser. This must come as a great surprise to you all, but it's actually completely true. No, really! LOSER. L-O-S-E-R.

Dammit!

And now for a few things you're dying to know:

The Name: At the age of 4, Joaquin felt slighted by the fact that all his siblings had earthy names but him (River, Rain, Summer, and Liberty), so, while out doing yardwork chores, he decided to go by the name "Leaf." He used that name professionally and personally until the 1990's when he went back to his birth name Joaquin (pronounced Waa-keen). His friends call him "Joaq." And apparently, the ladies call him "Kitten" ("When I go out with the ladies, I don't force them to pronounce my name. I tell them I like to go by the nickname of Kitten.")

The Education: Kitten dropped out of school in the ninth grade, when the district sent him a bloated, dead frog to dissect (he was being home schooled) and he freaked out. Don't be fooled into thinking he's not an intellectual, however, as he lists as his favorite authors Tenneesee Williams, Rilke, and Habert Selby Jr.

The Scar: All these years, I thought that scar was from a harelip. But, according to Kitten (I'm going to call him this from now until the end of time, you realize), he was just born with it. He says, "When my Mom was pregnant with me, she was in a hammock on the beach and she got these intense pains, and she felt as if some force, God or whatever, had caused this. Then I'm born. A few weeks later, she takes me to the doctor, he sees me and says, 'Who did this harelip operation? That's the best operation I've ever seen!' Mom said, 'No one. He wasn't born with a harelip!'" Either way, it's darn sexy, I have to tell you. I, for one, wouldn't mind giving it a little smooch sometime. You know, the scar or the lips below it. Um. Or both. Or everything else while I'm at it.

The Hobbies: When not making movies, Joaquin likes to play backgammon, tinker around on a keyboard, and ride his Ducati motorcycle (a man after my father's heart!).

Up next for the incredibly handsome, talented, and drool-inducing Kitten Phoenix are two movies in 2003. The first is "Aurora Island," and is described as a "drama/romance" co-starring Kim Basinger (Joaq, babe, I know you like older women, but Kim is a little out of your league, don't you think? I'm older than you by only a single year -- don't you think I'm a little more your type? Think on this for a bit and then give me a call, okay?).

After "Aurora" comes "Voltage," with ex-Boyfriend Philip Seymour Hoffman. "Voltage" is apparently about an engineer (Joaquin) who starts a new job and finds it peopled with a lot of quirky co-workers (an understatement, given the fact the movie also stars Steve Buscemi, ex-Bf Tony Shalhoub, and William H. Macy). Hmmm. Could be interesting. Especially if, say, Joaquin's romantic interest was a tall, short-haired blonde named Meg Wood. Write your production companies, people! Meg needs a kissing scene with Joaquin STAT!

In the meantime, however, I'll keep trying to see Joaquin movies I may have missed (I still haven't seen "Buffalo Soldiers" or "Signs," for two) and also track down a copy of "Space Camp" to call my very own. Sure, it might be sort of weird that my favorite movie starring Joaquin is the one in which he plays an 8 year old geek. But, honestly, people, haven't you figured this out by now? I'M NOT NORMAL.
| | |
| --- | --- |
| | MacGyver Factor Score: 99.899%. It was really hard finding a reason to take ANY points off for Joaquin. That's how much I love this guy and his cute little non-harelip scar and self-conscious swagger. But I managed to find ONE little fault with him. And really, having a few little tiny faults is what makes us human, right? We want Joaquin to be HUMAN, don't we? Anyway, that fault is this: he's only 5'8" tall. (You thought it was going to be juicier than that, didn't you? Didn't I already TELL you Joaquin is perfect?? Pay attention, people!) |
---
Boyfriend-Related Links
Kitten's IMDB Page
The JP Multimedia Site
A JP Fan Page
JP: Into the Fire
The Official Signs site

---
UPDATE! (8/20) Soon after this write-up was posted on the site, I got the following email from Joaquin's aunt (didn't ask for credentials, but why not be trusting when you can?). Thought I'd share it with youse guys so you can find out the truth (Ruth) about Joaquin. As you all know, I take my info from the web (from the sites listed above, in fact) and a LOT of the time, that information is wrong. To prove my point, here now is Joaquin's Auntie M, settin' the record straight:
Hi Meg, Not bad creative writing about Joaquin.  Being Joaquin's aunt, I thought I'd set you straight on a couple of things.  Joaquin was born in Venezuela.  Joaquin's Dad's name is John and his mother's name is Arlyn.  Their real last name is "Bottom."  They changed it before or when they got to Hollywood.  The two names you listed for his parents were names they used when they belonged to a church as missionaries.  One movie you didn't mention is "8 MM" with Nicholas Cage and Joaquin, weird but good, if you haven't seen it.

                                                                           

Have a good day,


Joaquin's Auntie M.

Thanks Auntie M!
---
Back to my Homepage.