The Boyfriend of the Week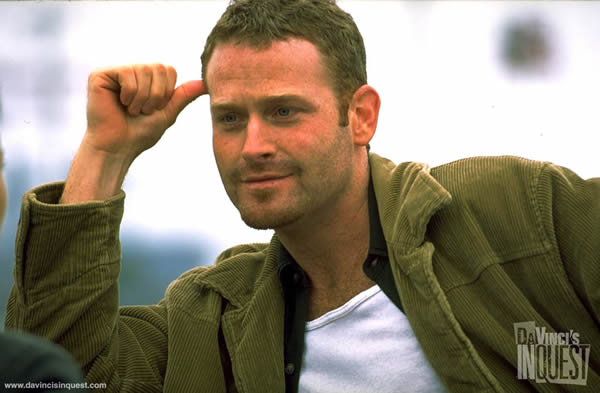 September 11, 2002
I have a terrible feeling I may be catching a little flak for this week's write-up. Why? Because it's the second week in a row that I've featured a Boyfriend a lot of people probably won't recognize. I mean, last week's Boy wasn't even an actor, for pete's sake! And this week's major claim to fame (for me, anyway) is a Canadian television drama most of you couldn't watch even if you wanted to.
But hey, every now and then, it's kind of nice writing about somebody who isn't a major star. And personally, I love hearing from you guys about potential Boyfriends I've never heard of, so maybe this isn't as irritating as I imagine. Consider it part of your official Boyfriend education. A little multi-cultural exposure. Besides, he's darn cute, isn't he? And Canada - well, what's not to love about Canada?
I first encountered Max Martini (is that not the best name you've heard all week?) in two of his movies, "Contact" with ex-Boyfriend Matthew McConaughey, and "Saving Private Ryan" with future Boyfriend Tom Sizemore (who has a new television show himself coming out in about three weeks). But, to be honest, I don't remember who he was in either movie because at the time, I didn't know him from Adam. My first real Max exposure came just a few months ago, when I first started watching the show "Da Vinci's Inquest" on the one Canadian channel we get up here in the Pacific Northwest, CBC.
The title character of the show, who is definitely Boyfriend material himself, especially because of his recent guest role on the great USA show "Monk," is Dominic Da Vinci, the chief medical examiner in Vancouver, BC. About half the show follows Da Vinci's case involvement, and the rest focuses on the cops who are investigating the deaths from another angle. Max, apparently, used to be a major character on the show, which began in 1997 and is still running strong. Now, however, he sort of comes and goes. During the episodes I've seen, he was brought back to Vancouver after a lengthy hiatus to work undercover in a case about a man who ran insurance scams and is also suspected of murder.
Max's undercover job was to pretend to be a bartender and get close to the man's ex-wife. He, therefore, spent all his time showing off his considerable skills at charming the socks off the ladies. And, as you all know, of all the women out there who are at serious risk for losing their socks to a charming man, I am the, uh, most seriously at risk of all those at risk for losing their socks to a charming man. Hmmm, that sentence started so well. So much promise in that one. And look how it turned out. Anybody else REALLY need a cup of coffee this morning?
Anyway, I'm also a big sucker for controlled haughtiness and for unobtrusive, inoffensive self-confidence. And also, perhaps most importantly, for freckles.
Max Martini has all this and much, much more. And the show itself is clever and different, which ought to come as no surprise to any of you given the fact it's Canadian and CANADA RULES.
Yes, you heard me correctly. I love Canada. They have all the best stuff in Canada. The best TV shows. The best people. The best accents. The best exchange rate. THE BEST MOUNTIES. Everything about Canada is something to love. O Canada! Our home and native land! True patriot love in all thy sons command. With glowing hearts we see thee rise, the true north strong and free! From far and wide, O Canada, we stand on guard for thee. God keep our land glorious and free! O Canada, we stand on guard for thee!
Bet you didn't know I knew all the words to the Canadian national anthem, didja. And, god bless 'em, they sure do use a lot of exclamation points up there, eh?
A little biography about our Boy Max: he was born in New York on December 11, 1969, but his parents, obviously realizing their mistake, quickly moved to Canada, and he ended up being raised in both places. Obviously confused by this (Am I American? Am I Canadian? WHO AM I?!), Max attempted to start his career in the U.S., beginning as a student of fine arts at the School of Visual Arts in Manhattan. Almost immediately upon graduating with his BA, he landed his role in "Contact." Then he was off to Steven Spielberg for "Saving Private Ryan," and then to an independent film which I am unable to locate on video, called "Backroads." "Backroads" reportedly screened at one of the Sundance Film Festivals, but I couldn't find out much about it. (If anybody knows anything, email me?)
The same year Martini made "Private Ryan," he married long-time girlfriend Kimberly. At their wedding reception he was approached by Chris Haddock, a friend of his stepfather's, and offered the role on his newest show "Da Vinci's Inquest." Max was intrigued by the part, that of Danny Leary, a somewhat shady and mysterious character. Shortly after the honeymoon, he began to prepare for the role by studying heroin addiction and basic police work. He also got a lot of pointers from his own mother, who was a private investigator and parole officer in Texas for a time.
Next up for Martini was another military-related role in the short-lived TV series "Harsh Realm," which also starred ex-Boyfriend D. B. Sweeney. The show was so highly anticipated, Max began to get movie scripts from the big guns (Gus Van Sant, De Niro, Travolta) and the Harsh Realm cast was immediately signed for seven years of episodes. However, much to everybody's surprise, the Chris "X-Files" Carter creation barely made it through a single season before being cancelled. Ouch. Max hasn't had a single year without work yet, though, and since "Harsh Realm" he has worked on another series ("Level 9") and made several more movies. He's currently featured in a recurring role on the new Bravo series, "Breaking News," though I haven't managed to catch an episode of that yet, so I can't tell ya who he is on it or how the show is overall. I have no excuse for this. I'm just plain lazy, is all.
Up next for Max is a fairly big part in the movie "The Great Raid," which will be coming out in 2003 and stars ex-Boyfriend Benjamin Bratt. There isn't much information about the film out yet, but it does appear to be military-related as well, which is good news for me because I love a man in uniform. (In fact, nothing would thrill me more than to see Max Martini play a Mountie, so, hey, somebody out there get a script going, wouldja?). And, as far as I know, he'll be showing up in more episodes of both "Breaking News" and "Da Vinci's Inquest."
If you have access to the Canadian Broadcasting Channel (CBC), tune in Sunday nights at 9pm for "Da Vinci's Inquest." Anybody who loves gritty realism, medical examiner jargon, and lots of people who say "eh?" all the time will find lots to love in the show. And stay tuned for a write-up on Da Vinci himself (probably in about a month) -- he's got really sexy wrinkles. Honestly.
MacGyver Factor Score: 96.587%. Points off because in his spare time, Max Martini loves to go skydiving. In fact, he paid his way through college by teaching lessons. Now why anybody would want to jump out of a perfectly good airplane, I'll never understand.

Points back because, well, just look at those freckles!

---
Boyfriend-Related Links
The Official Da Vinci Web Site
Max's IMDB Page
The Official Breaking News Site
---
Back to my Homepage.