The Boyfriend of the Week
Please note: this write-up was written by Kim Harmeling and was posted during a week Meg was on vacation. Kim will be contributing more columns in the future cuz she's damn funny and has really good taste in Boyfriends. Just like somebody ELSE we all know around here. . .(hint: me.) Thanks, Kim!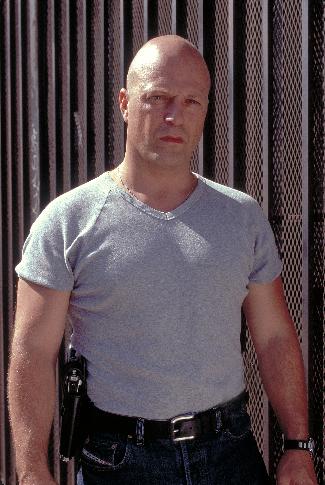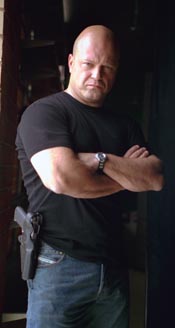 July 9, 2002
For those of you living in TV rerun purgatory for the last couple of months I have two words for you -- "The Shield". Well, actually, four words -- "The Shield" and "Michael Chiklis." I got hooked on watching "The Shield" a few weeks ago, when I was down with a case of the nastiest flu I've ever had. I tell you now, that in spite of my seriously weakened condition not only did the show catch my eye, but once I laid eyes on this week's boyfriend, it got my blood racing as well. It may have just been the fever talkin', but whatever it was, it was impossible to ignore. I had discovered this week's Boyfriend -- Michael Chiklis -- and my white blood cells have never been the same since.
Michael (I call him Michael -- he just doesn't seem like a "Mike" to me and his nickname "Chik" just doesn't do it for me at ALL) may look familiar to some of you who might have seen him in his previous life as a TV sitcom guy in the short lived comedy "Daddio" from 2000 or the longer running drama "The Commish" back in 1995. Maybe you've also seen him on film as Curly Howard in the TV movie "The Three Stooges" in 2000 or as the comic relief (Jimmy Pig) in "Soldier" with Kurt Russell in 1998. If those are indeed what you know him from, he's probably completely unrecognizable to you now. Why? Because Michael, my friend, has been working OUT. I mean seriously working out. He is down to a lean, mean, and seriously rock-solid 188 from his former more generously proportioned self of 245. He got rid of the pudgy, balding look and re-invented himself as (yum!) Mr. Action Man. And let me tell you, he is all over that role like the candy coating on a green M&M. I never thought that a 5' 9" bald guy would be so attractive but one look at that solid bod (his upper body alone makes me want to cry) and I'm a lost cause. Add to that bod those oh-so-intense blue-green eyes and I suddenly go from the Queen of Cool to a squishy pile of mush. All in ten seconds or less. And that, my friends, is not my fever talkin'.
Vic Mackey, the character he plays on "The Shield", is such a complete 180 from everything else he has ever done that at first it was hard to figure out why they would have chosen him to take that lead role. One episode completely banished all doubt. The character is so conflicted, so morally and ethically elastic, that for a number of episodes it's really not certain whether he's the good guy or the bad guy -- but then again I didn't really care. Michael is absolutely riveting doing it. His Vic is someone you want to have as a friend -- a VERY GOOD friend (especially if the other option is having him as an enemy) -- and who you know you can ask to take on those nasty situations that occur in everyone's life, with nary a single flinch. There's something so appealing about a man you can depend on to bail you out of a jam regardless of what it takes, a man who can be rather dangerous, but who has a total soft spot for you in his heart. It's not as if I ever get in the type of jam where people with guns are out to get me, but it's nice to know he would be around if they were. Kinda gives me a warm squishy feeling inside.

Okay, a bit of background on Michael. He was born on August 30, 1963 (birthday comin' up - Happy Birthday, Michael!) in Lowell, Massachusetts. He got his degree from Boston University's School for the Arts, before moving to New York to take up stage rolls, including that of Stanley in "A Streetcar Named Desire." ("Ste-e-el-l-la-a!") Michael in a torn T-shirt and jeans, standing in the moonlight yelling up at my window -- the vision has definite appeal. But, I digress…. He has been married to Michelle Moran since 1992 and has two daughters: Autumn, age 9 and Odessa, age 3. He credits his wife with being the impetus behind his transformation from balding and pudgy to bald and buff, stating that it was her belief in him and his ability that made it possible for him to make such a drastic and, need I say, delicious transformation. His wife, that is, and a high-protein, low-carb diet combined with gallons of water knocked down the hatch and LOTS of weight training. Yep, he's been lifting lots of weights. I can't help but think this is a very good thing.
To my everlasting joy, "The Shield" has been renewed for another 13 episodes, despite controversy surrounding it's graphic content and the fact that several "family-oriented" sponsors (including a number of popular fast-food restaurants who shall remain nameless) pulled their sponsorship from the show. Don't worry, Michael, there are still plenty of us out there who think that reality (and those nice biceps) are worth a little sacrifice. Take my advice and check "The Shield" out in reruns -- happening NOW on FX -- and in the new season. You won't be sorry (you know, unless you make the huge mistake of calling me Tuesday nights at 10pm just as the opening credits start to roll. I wouldn't advise that. Really. Just say no.)

| | |
| --- | --- |
| | MacGyver Factor Score: 99.123% Points off for being only 5'9", something he can't help, but I do like my Boyfriends tall (and married). Points back for the determination to transform himself from big-bellied to buff, as well as for being a guy every girl can depend on. Keep it up, Mikey! |
---
Boyfriend-Related Links
Mikey's IMDB Page
The Official Michael Chiklis Web Site
Michael's charity foundation
---
---
Back to my Homepage.