The Boyfriend of the Week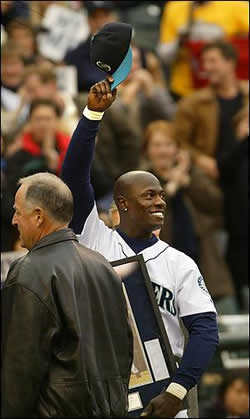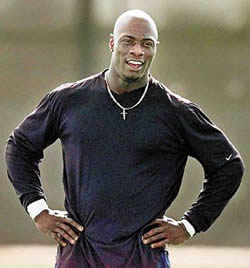 May 13, 2002
It's SPRING! And that means it's BASEBALL SEASON! And even though it's pouring down rain and cold today, I think we ought to celebrate. So, that's why this week's Boyfriend is the latest in a long line of Mariner sweeties, Mike Cameron.
Any baseball fan who didn't know who Mike Cameron was two weeks ago surely knows who he is now. He's the guy who, on May 2, became only the 13th player in Major League history to hit four home runs in a single game. He's the first M's player to do it and only the fourth American League player to do it. He's also only the fifth player in the history of the game to hit four home runs in four consecutive at-bats! Also, I'm fairly certain he's one of the only players ever to hit four home runs in four consecutive at-bats on a Tuesday. And possibly the first-ever player to do it on a Tuesday night in May at Comiskey Park. Don't you just LOVE baseball statistics? I sure do!
By the way, we can't talk about that fateful game without also mentioning that ex-Boyfriend Bret Boone was a pretty major player as well -- he and Mike hit two consecutive home runs in the FIRST INNING of that game. Just think about that for a minute. They each hit two, back-to-back, in one inning. All White Sox fans may now hang their heads in shame. Go ahead, we'll wait.
Whadda game. I would've loved to have been there -- not just because it was an amazing feat, but because after Cammey got up for his fifth at-bat and almost hit ANOTHER home run (oh man, it was SO CLOSE!), he got a standing ovation from the crowd, came back up out of the dugout to wave at everybody, and had the biggest, whitest, happiest grin on his face I have ever seen on anybody ever before. See picture, top left.
It's that grin that made me fall for him -- have you ever seen a better smile? I remember when Cameron first played for the M's, waaaay back in the year 2000. He was taking over the position vacated by Ken Griffey, Jr. after a pretty emotional trade. A lot of people were sure the M's were doomed without Junior. A lot of people were pretty mad at Junior, too, for leaving us behind. But Mike Cameron showed us all pretty dang fast that we were all worried and upset for nuthin' -- he was not only as good an outfielder as Griffey, he was BETTER. And not only that, he was confident without being arrogant, generous with the fans almost to a fault, and just really really REALLY happy to be playing in Seattle. That confidence and that attitude, coupled with his love of the game and his considerable talent has won over every M's fan out there. And, judging from the fans at Comiskey Park two weeks ago who were cheering him on like mad during that fifth at-bat and then gave him, the hotshot on the away team (!), a standing ovation, well, it looks like we aren't the only people out there who think he's da bomb (as the kids say).
Thinking back on those early days as the M's center-fielder-post-Griffey, I can't help but think any other player in his situation would've been pretty intimidated. Would've quickly grown tired of the comparisons, too. Maybe even started to resent Griffey a little. Instead, Cameron's been totally cool about the whole thing. He did what he came here to do -- kept our team champs -- and has never had a negative thing to say about a single thing. And as for resenting Griffey's hold on Seattle, it's clear that's a bogus accusation. In the last two years, Griffey's had a pretty rough go of things. He's picked on incessantly by critics and baseball fans alike. And one of the most vocal Griffey supporters? Mike Cameron. He has time and again come out and said, "Hey, give the man a break -- he's one of the best players of all time!" To me, that says a lot about our guy. He's got a brain and a heart, all in the right places.
The other thing you can't resist about Mike is the fact that that grin I mentioned earlier pops out a lot on the field; Mike's pretty generous with it. He's a happy guy who loves what he does -- and does what he loves pretty darn well. How can you resist somebody like that? Especially when to top it all off, they're totally gorgeous (and I mean TOTALLY), smart, kind, and just all-around great? There's no resistin'. Even non-baseball-fans have to admit he's cute. You can't look at that smile and think anything else.
Now, a little background: Mike was born Michael Terrance Cameron on January 8, 1973 (a good year for the births of geniuses). He came from a large family (two sisters and a brother on his mom's side and three more brothers on his dad's), but was raised by his grandmother Fannie Mae Cameron from a very young age. He grew up with her in La Grange, Georgia, where she still lives today. Fannie Mae, in an interview recently posted on the Mariners web site, says Mike has wanted to be a ball player since he was big enough to throw balls around. He started out as a football player at the age of 4 (we assume not professionally), but got into baseball pretty soon after and has been addicted to the game ever since.
Fannie Mae also said Mike was a very quiet child at home, though he was occasionally a bit of a handful at school. When her husband died on Easter in 1978, it was Mike who kept her going. She says now she never would've survived the loss of her spouse were it not for her little Mikey. He was there for her time and again in her life -- whenever she needed him. And they remain close to this day. Gotta love a man who takes such good care of his grandma, don't you agree?
Mike played baseball all through school, honing his skills as an outfielder and right-handed batter. In 1995, he made his Major League debut with the White Sox, with whom he played until 1999 when he made a one-year switch to the Reds. He was traded for Ken Griffey in the year 2000 and has been a red-hot Seattle Mariner ever since.
Last season, Mike was one of the M's key players, both offensively and defensively. He batted fifth or sixth most of the season and hit a career-high 25 home runs. Finished third in the club with a personal-best of 110 RBI. In June, he batted .311, scored 18 runs, and drove in 23. In addition, his coverage of center field was so strong, he earned the first Gold Glove of his career.
The week of April 29 to May 5th this season (the week of that magical 4-HR game), he was named Player of the Week (with Omar Vizquel). That week, he batted .304, slugged .870, and had a .414 on-base percentage. He collected 20 total bases, scored 7 runs, and batted in 6! The man is an unstoppable baseball MACHINE, ladies and gentlemen!
Now, obviously, if you aren't a baseball fan, you're bored silly by this write-up. Usually I'm not so into the numbers, and for that I apologize (but hey, beats having to hear about ANOTHER Buffy guy, right?). But look, skip the writing part of this week's write-up and just focus on those pictures. Doesn't he look GREAT in those tight baseball uniform pants? And look at his arms! And that face! It's so cute and happy! You guys, it's enough to make even the most anti-sports person love the game, I tell ya. He's just too good to be true. And he's on MY TEAM! Life is SO good sometimes.
So, Mike, this is why you're my Boyfriend this week. And I have absolutely no doubts whatsoever that this year, you're going to usher our team right into the World Series. In the meantime, keep looking for me over there in right field -- we got a 16-game package as a wedding gift last fall, so I'll be there lots this season rootin' for ya. I wouldn't say no to a home run hit right into my lap, either. But, you know, only if you don't think that would be showing off a little too much. *wink* Regardless, just know that I and the vast majority of the other M's fans out there in the world, think that you're the greatest thing to walk into our stadium since Edgar Martinez. And as for replacing Ken Griffey, all I can say is, thanks. He was cute, but he's no Mike Cameron.
| | |
| --- | --- |
| | MacGyver Factor Score: 98.4532%. My oh MIKE! |