The Boyfriend of the Week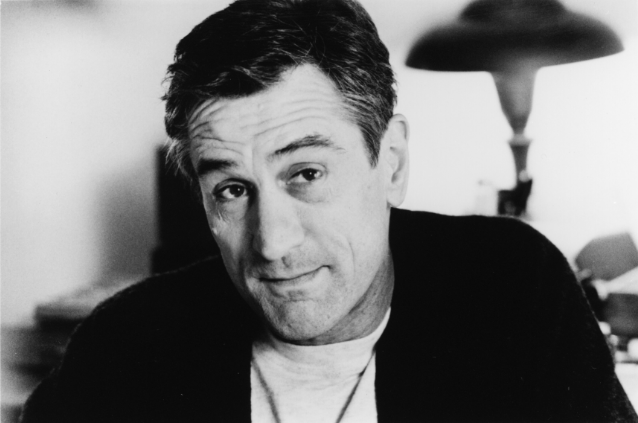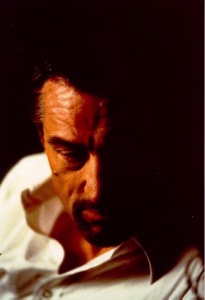 August 6, 2001
This is another one of those Boyfriends that just amazes me. How in the ever-lovin' superstar bizarro world did I manage to get by this long without realizing Robert De Niro would make the perfect Boyfriend of the Week? I mean, Robert De Niro is ROBERT DE NIRO, for pete's sake. You just can't get any better than that. This man is the king of cool. I'm dating the KING OF COOL!
Now, I'm sure a lot of you out there agree with me. And I am also sure a lot of you think I'm nuts. After all, Robert De Niro is not the kind of guy you associate with hand-holding and smooching. Nope, when you think Robert De Niro, usually what pops into your head along with his face is an assortment of large guns and dead people. De Niro is known for his masterful portrayals of bad guys of all types. Organized ("Casino," "Godfather II," "Goodfellas") and disorganized ("Taxi Driver," "Cape Fear").
I'm here, however, to convince you to rethink that. Time to rewire them brains and get them to associate Bob with something other than shoot 'em ups (or worse-than-shoot-'em-ups, like chop-'em-heads-off). To do that, I'm going to finish this whole write-up without mentioning once a movie in which Robert De Niro plays someone you can't love. Which is not the same thing as saying he'll be playing good guys in every film I talk about. But if he's a bad guy, it's sort of a secondary feature. You'll see what I mean in a second.
One of my all-time favorites, and one of Robert De Niro's earliest films is "Bang the Drum Slowly." It's a movie about a baseball team -- one with a star pitcher and also a sort of slower-minded catcher. A catcher who is good at the game and a friend of every player on the team, but occasionally almost annoyingly dim witted. When this catcher (played by Robert) is diagnosed with a fatal illness (Hodgkins disease), the pitcher is pretty much the only team member who really sticks by him. They struggle together to make the catcher's last year in the game one that really counts. It's one of the most moving boy-bonding movies I've ever seen. And as far as being "good" goes, you just can't get any better than the catcher on a baseball team, right? Everybody knows the catcher is the sexiest player. Oops, did I say "sexiest"? I meant "nicest." And, um, "kindest." And, um, "has the best thighs from all that squatting and stuff." Woo! Stop!
Another old favorite is "The Deer Hunter," in which Robert plays someone maybe slightly less likeable, but only because of the circumstances. This is another boy-bonding movie, this time set in Vietnam, as it follows a group of boyhood friends through the war and the horrible aftermath. What makes Robert De Niro totally sexy in this movie is certainly NOT his looks -- he's covered with mud and horrible facial hair throughout 95% of the film. Instead it's the way he looks out for his friends -- the way he carries one of them out of a POW camp, the way he risks his life to go BACK to Vietnam to pull another friend out before it's too late. He's the glue holding that group together -- it's hard not to love somebody that loyal.
Fortunately, by the time my next favorite good-guy movie came out, Bob had cleaned up a bit and was back to looking sweet and clean-cut. This one is the hilarious "Midnight Run," also starring Charles Grodin, in which De Niro plays a bounty hunter hired to track Grodin down (Grodin is guilty of some white collar crime and De Niro is 100% blue-collar so you can see already that the two aren't going to get along). What I liked about De Niro in this movie was that he was his usual tough-guy self -- but not immune to feelings of sympathy. Tough and tender -- it's an irresistible mix.
Let's see, then there was "We're No Angels," in which Robert and co-star Sean Penn play ex-cons pretending to be priests so they can hide out in a church from the cops on their trail. Though technically he's a bad guy in this movie, he's hardly BAD. In fact, he's pretty darn believable as a priest, something he proves to us again in the movie "Sleepers." In that one, De Niro's character does the wrong thing, but for the right reasons, when he works to try to save a bunch of boys he's known since they were kids from the punishment for crimes they were led to commit because of years of sexual torture in juvie.
Anyway, after "Angels" came another personal favorite, "Stanley & Iris," in which Bob plays an illiterate man who falls in love with Iris, a woman who has agreed to help teach him how to read. This is an out-and-out romance and the truly amazing part is that Robert De Niro is no less believable as a sweet man trying to woo a sweet woman as he is when he's a nasty guy trying to force a sweet woman to be his mistress. In all honesty, it just blows me away that this guy who can be so convincingly scary can also be the kind of guy you want to take home to your mother. No, nevermind your mother, you just want to take him home. And keep him all for yourself. The truly amazing part is -- he's plays both types of roles about 50-50. Never got typecast as a bad guy. Never got typecast as a good guy. Truly, truly remarkable.
Alas, I digress. After "Stanley" came the very moving "Awakenings," based on a true story, in which De Niro plays Leonard Lowe, a man stricken with encephalitis. Decades after the disease left him and dozens of others catatonic, a doctor is finally able to discover what looks like a miracle drug. He tests it on Leonard, and it works like a charm! The only problem is, Leonard got sick as a teenager and has awoken a man. De Niro's grasp of the complexity of the emotions this would create was just breathtaking. Who for a minute didn't believe he was really experiencing it? Watching the drug lose it's power was one of the hardest viewing experiences of my life. Why? Because I was in love with Leonard, just like you were, and De Niro really made me feel like I was losing him too. It's so cheesy, I know. But I just can't help it. So innocent and so sweet and so capable of so much love and then poof, all that lost. Whoops, guess I just blew the ending for some of you -- but lord, if you haven't seen "Awakenings" yet, you deserve the punishment!
I'm not even getting close to the bottom of my list of good-guy movies, believe it or not. There's "Backdraft," in which De Niro plays a fire inspector tracking down an arsonist. There's "Guilty By Suspicion," in which he plays a Hollywood director in the 1950's who is accused of being a communist by the House Committee on Un-American Activities and refuses to give names to save himself. Then there's "A Bronx Tale," an organized crime movie in which Bobby does NOT play a gangster -- instead he plays a father worried when his son is befriended by a gangster (incidentally, this very moving film was also De Niro's directorial debut). We also have "Ronin," a great movie about a bunch of freelance intelligence agents who are double-crossed (also starring ex-Boyfriend Jean Reno); "Heat," a movie in which he actually plays a bad guy but it's hard to hold it against him because he also falls in love with Amy Brenneman and all he really wants to do is run away with her -- ugh, this movie is one of the ones that really made me love Robert De Niro; and finally, there's "Analyze This," in which De Niro plays a gangster, but it's a comedy so it's okay.
What I hope this lengthy listing of films is showing you is that Robert De Niro is not only an extremely versatile and talented actor -- some might even argue the best actor of his time, and I'd be inclined to agree with them -- but he's also really darn cute. Okay, okay, so you can't really get that just from the listing itself. You have to take my word for it, kind of. But if you are hesitating to believe me, even for a moment, that means you haven't seen most of the movies above. And that also means you have missed out on something pretty spectacular. Robert De Niro is a FANTASTIC bad guy -- I mean, think about "Taxi Driver," think about "Godfather II," think about "The Untouchables," "Cape Fear," and "Casino." He can make you cry just by looking at you with that scary snarl thing he does. But he can also bring you to tears with another look -- a kind of pinched-eyed grimace thing he does when something is hurting him. There's just something about him sometimes that seems so gentle to me. Argh, like in that scene in "Deer Hunter" when he thinks they're about to shoot his friend. Or that scene in "Stanley & Iris" when he's ashamed of his inability to read. Or that scene in "Awakenings," when he tries to dance with Penelope again and his feet just won't work right. And let's not for a moment forget about "Once Upon a Time in America" -- that scene when he finally tells the love of his life what she's meant to him and she tells him she's leaving on a train to Hollywood the next day. And then she leans in to kiss him and he just loses his mind with the heartache and the passion and the pain. Man, if ever a movie done me in, it was that one.
Yep, this man is a genius, ladies and gentlemen. He can scare you to death and break your heart -- all in a span of about five minutes. And that, my friends, is what acting is all about. Even if he were the ugliest man in the world (which he is not -- in fact, I just love Robert De Niro's face and let's not even talk about his upper body in "Cape Fear," okay?), it would be impossible for me not to be crazy about him -- just because of the red-hot intensity of his talent.
Man, this is really starting to get long -- do I have time for a biography? Have you all even read down this far? I'll just give you the super abridged version and you can check out the related links below for more if you're curious. Robert De Niro was born on August 17, 1943 in New York City to a family of artists. He grew up in Little Italy and was so scrawny, pale, and shy that the people around him nicknamed him "Bobby Milk." His first acting role was in a school play (he played the cowardly lion in a production of "The Wizard of Oz) and while he loved performing, he didn't stick with it, instead joining up with a small-time street gang. Still, when he was offered the role in another play at age 16, the siren song of a paycheck called him back to the stage and it wasn't long before he was a regular stage-actor, working on and off Broadway, and making the occasional television commercial.
His first film appearance was as an extra in Marcel Carne's "Trois Chambres a Manhatten" in 1965. The next year, he got a small speaking part in "The Wedding Party," a movie that introduced him to Brian De Palma, sparking a friendship that ultimately led to De Niro's first starring role, in De Palma's comedy "Greetings." When he co-starred opposite Shelley Winters in "Bloody Mama," doors really began to open for him in the movie world. His role in "Bang the Drum Slowly" made him a star and his role as the volatile and troubled "Johnny Boy" in Martin Scorsese's "Mean Streets" marked the beginning of his long and celebrated career as a movie gangster.
His next big break came when Francis Ford Coppola cast him as the young Don Corleone in "The Godfather Part II," a role for which he won his first Academy Award. In 1976, he received further acclaim when he starred in "Taxi Driver." His role as Jake La Motta in "Raging Bull" got him the Best Actor Oscar in 1980. And the list of successes go up from there.
In addition to his life as an actor, De Niro also created and co-owns the Tribeca Grill, which is located on the first two floors of his lower-Manhattan film center and is decorated with his father's artwork. He's been married three times, most recently in a secret ceremony in 1997 (to long-time girlfriend Grace Hightower, a former flight attendant). Let's hope by the time he's ready for marriage number four, we are somehow introduced, huh? You guys get to work on this for me, wouldja?
Lessie. . . there's a lot coming up for Bobby -- he's in a movie that recently hit the theaters, called "The Score," that looks pretty good (it's about an aging thief (De Niro) who hopes to retire and live off his ill-gotten wealth when a young kid (Edward Norton) talks him into one more score). Rob also has about 5 others due out within the next two years -- no need to fear he's approaching retirement, huh? The first is "15 Minutes," co-starring Edward Burns, and about a famous homicide detective (De Niro) and a fire marshall who team up to solve a particularly tricky case. After that comes "City by the Sea," in which Robert plays another detective -- this time, as the son of an executed murderer who grows up to be a cop, only to discover that his OWN son is a murderer as well. Man, I HATE it when that happens.
Next up will be "Showtime," a spoof of buddy cop movies and reality television, co-starring Eddie Murphy. And that will be followed by two sequels in 2003, "Meet the Fockers" (sequel to "Meet the Parents," of course) and "Analyze That" (sequel to "Analyze This," of course). Of the above, I can only see myself missing the Fockers movie -- I was pretty seriously disappointed in "Meet the Parents." But maybe it was just because Robert was the star and he never ONCE removed his shirt.
I'm what the old folks call "incorrigible," aren't I?
But good guy, bad guy, father, cop, soldier, lover, liar, thief, patient, heck even ALIEN, I'll take Robert De Niro any way I can get him. And that's the god's-honest-truth. Ruth.
| | |
| --- | --- |
| | MacGyver Factor Score: 94.56%. Points off because he's a little too old for me. Points back because I like 'em a little wrinkled around the edges. And besides, there's just something about him that I can't resist. Maybe it's the bad boy thing. That slightly cruel swagger in his step or even just the long-distance burn from his power. Or maybe it's just those few roles wherein he plays someone so sweet and honest and loving you just can't stand it. Or the fact he can put all those elements together in one character and just torture your emotions for two or three hours straight. Yep, it could be all these things and more. Or it could just be his pecs in "Cape Fear." Heck, I'm not going to question it. I'm just going to ENJOY it. I recommend you all do the same. Because either way, I'm a goner when it comes to Bobby De Niro. I'm sunk. |