Alert! Okay, so I lied yesterday. This week's write-up will not debut until NEXT week. There's just too much going on in my life at the moment -- no time for new relationships. So, let's hang on to Val for a second week (hardly a chore!) and everybody can come back here next week for the new Boy. I promise promise PROMISE this will be my last "vacation" until my wedding. Really. Thanks for your patience. You guys rule.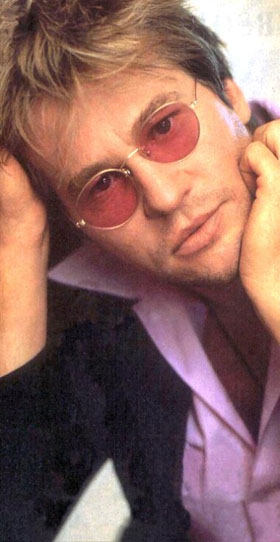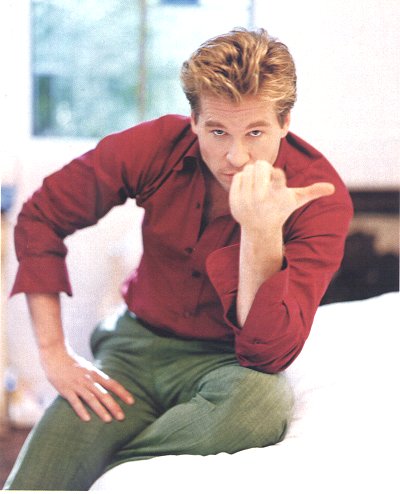 June 4, 2001
"Welcome to Pacific Tech's 'Smart People on Ice!'"
This week's Boyfriend has been a long time comin', as they say. I've been madly in love with Val Kilmer ever since "Willow" hit the theaters! I can't explain the delay -- now that I'm finally featuring him, it seems strange to me that he wasn't one of the earlier ones. But, oddly enough, I was just reviewing the archives the other day and noticed that, in actuality, NONE of the actors I was totally mad about when I was a kid (pre-pre-teen, i.e.) have been Boyfriends yet. Johnny Depp and River Phoenix (who doesn't really count anymore cuz he's dead) leap right to mind at the moment. And, of course, there's Val.
It must be because of some strange psychological block. Like, maybe I figure those Boyfriends belong to a different Meg -- the younger Meg. The innocent kid Meg. The Meg who actually one day believed that being in love with famous people was totally rational instead of completely insane and futile. Oh wait, that IS today's Meg. Ahem. But, well, you guys know what I mean. I remember being completely heartbroken when I heard Val was marrying Joanne, for example. Just absolutely devastated. Now when Boyfriends get married, I'm only heartbroken in jest.
And if you believe that, I got some land in Florida I want to sell ya. Cheap. Bah ha ha ha! ("This? This is ice. This is what happens to water when it gets too cold. This? This is Kent. This is what happens to people when they get too sexually frustrated.")
But, seriously, the good thing about Val Kilmer is that he's still around and he's actually better than ever. He's obviously going to be one of those obnoxious men who ages really really well, and despite the fact that recently his movies haven't been quite up to par, you'll notice he's still making them and they're still doing relatively well at the box offices. I have no doubt that Val Kilmer is going to be around for a very long time. And that, my friends, makes me extremely happy.
As I mentioned above (oh wait, no I didn't), my first real Val experience was with "Willow," that great fantasy film about a magical baby and a bunch of midgets. Well, okay, there's a bit more to it than that. Like Mad Martigan, one of my all-time favorite Val characters. Crazy, funny, smart, tall, dark, and handsome. It was on the set of this movie, by the way, that Val met Joanne Whaley, and they married shortly after it was released. It was quite a blow for me at the time -- I had just started my raging fandom at that point and was all swooney over the fact that Val was not only a hunk, but also a published poet (he had a book of poetry published in 1983 called "My Edens After Burns" -- it's no longer in print, however). For a young writer like me, that was a breathtaking combination (cute, swarthy, tall, and capable of verse -- argh!). So, you can only imagine the blow to my plans when I found out he was married. ("I was thinking of the immortal words of Socrates, who said, 'I drank what?'")
But enough about that, let's talk about something happier. Like the next movie I saw Val Kilmer in, "Real Genius." I have to admit that after all these years, this is the Val Kilmer movie I think I love the most. It's insane, stupid, and full of the best one-liners I have ever stumbled across in my many, many years of watching bad goofball comedies. My brother and sister and I practically have the thing memorized and often toss out lines at random during conversations ("Your mother puts license plates in your underwear? How do you sit?"). Just for kicks, I've decided to load this write-up with them as well. If you'd already figured out that was the source of the parenthetical quotes above, you truly rock.
Over the weekend, I actually decided to go on a Val Kilmer rental binge. ("I'd like to start seeing a lot more of you in the lab." "Fine, I'll gain weight.") I picked up several great ones, including one I'd never seen before. That one, "The Saint," was the one that truly convinced me I was doing the right thing by being madly in swoon with this Boy. And for that, I have to thank the mother of my favorite nephew, who not only blackmailed me into getting this Val write-up done by tossing out veiled threats of never letting me babysit again, but also suggested I check out "The Saint," as Val rather impressively created a multitude of disguises for his character in the film, Simon Templar. In fact, he came up with so many terrific and believable alternate personas that the director couldn't even use them all. ("Take one and pass it back, just like your IQ was normal.") That's pretty cool.
If you weren't already convinced that Val was one of those amazing chameleon-type actors (as opposed to the kind of actor who essentially plays himself in every movie -- Harrison Ford, Sean Connery, etc.), this flick ought to do it for you. And not only that, you get to see Val with his shirt off a few times, which was, I have to admit, my favorite of his various Simon-Templar-selves in the film. ("Let just pause; put that down. Let's just take a step back. No, I was wrong, I'm sorry, take a step forward. No, take a step back. Take a step forward. Take a step back. And then we'll cha-cha!")
But even without "The Saint," a quick review of Val's cinematic past ought to lead us to the same conclusion ("It's a laser beam, bozo!"). We have, for example: a crazy criminal/fighter ("Willow"), a delightfully ridiculous physicist ("Real Genius"), a professional thief ("The Saint"), a blind massage therapist ("At First Sight"), a somewhat lewd mechanic ("Red Planet"), an arrogant fighter pilot ("Top Gun"), a drug-addled rock star ("The Doors"), an Irish bridge builder ("The Ghost and the Darkness"), Moses ("The Prince of Egypt"), and, last but not least, a tubercular dentist with deadly aim ("Tombstone").
Ah, "Tombstone." Without a doubt the finest movie about the Earp boys ever made. And Val Kilmer, hands down, is the most three-dimensional Doc Holliday ever to swagger across the big screen. He brought to the role so much more than any of his predecessors -- a certain humanity. Doc, we discovered through Val, was no cold killer, but instead an intelligent, fiercely loyal man, strong of will and character, with a quick wit, a sharp mind, and, well, okay, a relatively loose moral sense. But, all in all, a man truly worthy of respect and affection. At least if you're me. If you want to know more about why I love Doc Holliday, you can check out his archived write-up. ("Another in a long series of diversions to avoid responsibility.")
A little background on the sweet, smart, and (yes, I will say it this time) SEXY Val Kilmer: he was born on December 31, 1959 in Chatsworth, California (just outside Los Angeles). His parents divorced when Val was young and, as a result, he and his mother were much closer than he and his father, who died in 1993, during the filming of "Tombstone."
Val had two brothers ("Moles and trolls, moles and trolls."), Mark and Wesley, but he is reportedly estranged from his older brother (Mark) and tragically lost his younger brother Wesley in an accident in 1977. At that time, Val was on his way to Julliard, where he became the youngest student ever admitted to the drama department. This transition into his new life, he says, was the only thing that made it possible for him to go on after the loss of his brother. And it's a good thing too, because he excelled at school, appearing in several Shakespeare productions and even starring in a play he co-authored, "How It All Began."
How it all really began, though, was when he turned 24 and starred in his first feature film, "Top Secret!" This satire of war movies and Presley musicals was a big hit (especially with my crowd, who was just juvenile enough at the time to think it shocking and hilarious) and gave Val a chance to really show off his talents (that's really him singing, incidentally).
A little trivia ("I don't know; I found it in the lab.") -- did you know Val was offered the Patrick Swayze part in "Dirty Dancing," but turned it down because he was worried it would lead to a future of typecasting in "hunk" roles? Good decision! The only problem with that at the time, though, was that there really weren't any other types of parts being offered to him. Fortunately, it didn't take long before he was rescued by "Real Genius" and, most especially, by his role as "Iceman" in "Top Gun," which really broke Val into the Big Leagues. ("How does it feel to be frozen? Yeeeeah!") Not only was that film a mega-hit, but it is also another one which features Val performing my favorite of his tricks: the quarter-flipping thing (which he also does in "Real Genius" and "Tombstone," though I think he actually did it with a pen in "Top Gun," not a quarter). If you know what I'm talking about, you too are a deserving Kilmer fan. Bravo!
Popular film aside, though, Val has also always been active in political and charitable causes. In 1986, for example, he wrote and directed his first in a series of documentaries, "Journey to Victory," which is about nuclear disarmament. Later on, he became infatuated with Africa (for which he scores MAJOR Boyfriend points, by the way). His love and respect for the country was one of the reasons he was drawn to his starring role in "The Ghost and the Darkness," a wonderful film based on the true story of two lions who, in 1898, killed over a hundred people ("for the pleasure of it") over an amazingly short un-lion-like period of time. Val's character, John Patterson, is an Irish bridge engineer whose workers are devoured by the lions while he and a famous hunter (played by Michael Douglas) struggle to find and kill the beasts. In 1998, Val also narrated a documentary for TBS called "Africa Unbottled," which was about the various ways African natives in several countries have dealt with issues of wildlife and ecological conservation. ("You want a cherry? I made it myself.")
Sadly (well, for him anyway), he and his wife Joanne divorced in 1995. The separation came as a surprise to Val (especially since it came so soon after the birth of their second child), but he is undoubtedly better off now that he is free to date other women. Like me, for example. ("First, you have to get back at Kent. It's a moral imperative!")
Anyway, what's Val been up to lately? After "Red Planet," which, while certainly no masterpiece, is definitely the best of the latest batch of Mars movies, Val is slated to show up in two films in 2001. The first, a crime-thriller called "The Salton Sea," is about a man who witnesses the murder of his wife and then goes undercover as a drug dealer to avenge her death. If that's not enough to draw you into the theater, would it help if I told you that Vincent D'Onofrio co-stars as a character named "Pooh Bear"? I thought it would. After "Salton Sea" comes "In God We Trust," which is an FBI-type thriller co-starring Christian Slater, about a group of ex-cons who find a score that's bigger than they can handle.
Val has also been working on another African project with a friend of his (Bowan Boschier), which he plans to star in, co-write, co-produce, narrate, and direct (gee, that's all?). The story, apparently, is about Bowan's father, Adrian Boschier, who walked 30,000 miles through the African wilderness. Val is also in negotiations to star in "The Killer Inside Me," Jim Thompson's latest thriller, in which Val would play the part of Lou Ford, a psychopathic sheriff in small-town Texas in the 1950's. Apparently, Val bought and then lost the rights to the book, but has maintained a strong interest in making the film. We'll have to wait and see how that all works out. ("Would you be prepared if gravity suddenly reversed itself?")
Val could pretty much make just about anything and we'd all pay money to go see him do it, though. Why? Because he's great. And he's tall, blond, cute, sweet, smart, and talented, with very, very white teeth. All things we like a lot here at the Boyfriend web site. A. Lot. And while waiting for his next film, we can also all anxiously sit around twiddling our thumbs while we wait for Val to complete and release his official web site (www.valkilmer.org). During a recent AOL chat session, Val said he's hoping to be a lot more involved with his site than some other celebrities are with theirs. "I'm going to start with just beginning to ask the viewers what [they] want to see," he says (surely he must realize how many "Pictures of you nekkid!" responses he's going to get with that question). Rumor has it he's even going to be posting some of his poetry, which I haven't decided yet whether or not I want to read. But no matter what, the news looks good -- Val Kilmer is still around, looking and acting better than ever. He's got a long career ahead of him and a bazillion fans like me who wouldn't consider missing a single drop-dead gorgeous minute of it. And, as the great Doc Holliday would say, you're a daisy if you do. (Well, he'd either say that or "My hypocrisy knows no bounds," but we can talk about the bizarre facets of his sense of humor some other time.)
| | |
| --- | --- |
| | MacGyver Factor Score: 99.87637852985%. It's a long score, but only because there are so many factors to take into consideration this time. Looks, brains, talent, personality, height, hair, eyes, voice, shoulders, hands, teeth, um, well, I'm sure you can complete the list on your own time. The fact of the matter is, I'm lame for not making Val Kilmer a Boyfriend two or three years ago, so I owe him big time. What the heck was I thinking? Where is my MIND? And now aren't you guys glad I waited that extra week instead of just tossing this up carelessly last Monday when I wasn't ready? Yes, yes, you moan and groan sometimes, but ultimately, it always ends up being worth it, doesn't it? ("If you think that by threatening me you can get me to do what you want... Well, that's where you're right. But -- and I am only saying this because I care -- there are a lot of decaffeinated brands on the market that are just as tasty as the real thing.") Yes, readers, it's true, I'm your huckleberry. (And this week, thank heaven, Val's finally mine.) |
---