---
The Boyfriend of the Week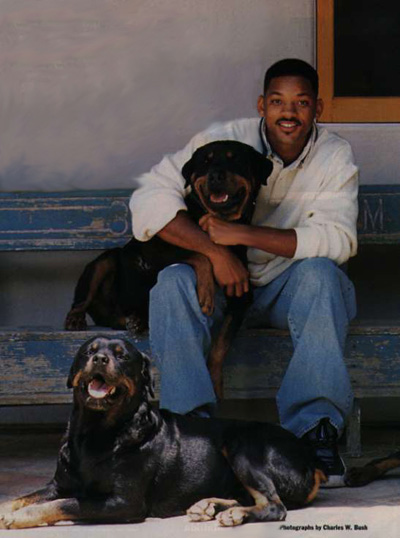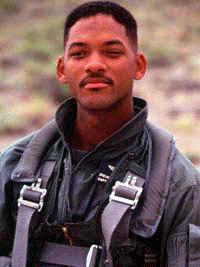 December 11, 2000
By now, everybody on the planet must know who this week's Boyfriend, Will Smith, is. Who hasn't seen, for example, the great sci-fi comedy "Men in Black" (starring ex-Boyfriend Tommy Lee Jones)? Wait, allow me to rephrase that -- name one person not from the planet Mars who has not seen "Men in Black." The rest of you, and you know who I mean, y'all don't really count. This is an Earthling poll, not an extraterrestrial-not-even-bothering-to-pay-attention-to-local-planetary-culture poll. We'll have one of those later.
Most of you have probably also seen "Independence Day," a likewise great sci-fi movie (with a little comedy thrown in just to keep the ball rolling). A goodly portion of you might even remember the movie that really put Will Smith on the map (of EARTH, anyway), "Six Degrees of Separation." And there may even be, scattered amongst you, a very few people who can think way way back and recall the old television show "Fresh Prince of Bel-Air."
However, I'd like to know how many of you remember this:
I remember one year
My mom took me school shopping
It was me, my brother, my mom, oh, my pop, and my little sister
We headed downtown to the Gallery Mall
My mom started bugging with the clothes she chose
I didn't say nothing at first
I just turned up my nose
She said, "What's wrong? This shirt cost $20"
I said, "Mom, this shirt is plaid with a butterfly collar!"
The next half hour was the same old thing
My mother buying me clothes from 1963
And then she lost her mind and did the ultimate
I asked her for Adidas and she bought me Zips!
I said, "Mom, what are you doing, you're ruining my rep"
She said, "You're only sixteen, you don't have a rep yet"
I said, "Mom, let's put these clothes back, please"
She said "no, you go to school to learn not for a fashion show"
I said, "This isn't Sha Na Na, come on Mom, I'm not Bowzer
Mom, please put back the bell-bottom Brady Bunch trousers
But if you don't want to I can live with that but
You gotta put back the double-knit reversible slacks"
She wasn't moved - everything stayed the same
Inevitably the first day of school came
I thought I could get over, I tried to play sick
But my mom said, "No, no way, uh-uh, forget it"
There was nothing I could do, I tried to relax
I got dressed up in those ancient artifacts
And when I walked into school, it was just as I thought
The kids were cracking up laughing at the clothes Mom bought
And those who weren't laughing still had a ball
Because they were pointing and whispering
As I walked down the hall
I got home and told my Mom how my day went
She said, "If they were laughing you don't need them,
"Cause they're not good friends"
For the next six hours I tried to explain to my Mom
That I was gonna have to go through this about 200 more times
So to you all the kids all across the land
There's no need to argue
Parents just don't understand

(from the album "He's the DJ, I'm the Rapper")

If you could hear The Fresh Prince singing that passage in your head as you read it, you win my respect for life. And to win yours, I'll tell you I drug that up from memory (well, for the most part, anyway). And who could ever forget it? DJ Jazzy Jeff and the Fresh Prince -- the only rappers I have ever listened to and loved. And definitely the only rappers I have ever memorized song lyrics from.

There's a good reason for that, too. One that has quite a lot to do with the reason for Will's success in general -- he's FUNNY. Oh, and also extremely cute. And did I mention smart, talented, and nice? A truly deadly combination (just ask Jada Pinkett-Smith).

Anyhow, if you are aware of the above facts (the cute smart nice facts), then you already know and understand exactly why Willard Smith (yup -- it's short for Willard) is my Boyfriend this week. Granted, he's probably the most happily married Hollywood star today, and he's got kids that are so inspiring, he writes love songs to them that make it to the Top 40. But that kind of family dedication is hardly something to hold against him. Nay, in fact, it actually makes him a better Boyfriend. Because I already know he's great at it. Tried and true. Trained and tested. Those are the best kinds of Boyfriends to have around. They're very low-maintenance.

But, before I get completely off-track and lost in my own little Will Fantasy Droolfest, here's a little background on him for you: he was born in Philadelphia on September 25, 1968. He's 6 feet 2 inches tall (woo) and was nicknamed "The Prince" by his teachers in school, who noticed his amazing way of getting himself out of trouble using only his charm and wit as weapons. He was the second of four children born to Caroline (school board worker) and Willard Sr. (engineer). He grew up in middle class Philly and started rapping in the 12th grade, when he met DJ Jazzy Jeff at a party. They quickly hit it off and became a team. After a few years making it big on MTV, Will decided to try something new and hooked up with Benny Medina in 1989. Benny had an idea for a sitcom based on his life in Beverly Hills and Will was the perfect fit for the role. So, they together they ran a pilot by NBC, who loved it, and the rest is goofy sitcom history. The series ran for over six years, and was a critical success.

Always thinking ahead in a big way, Will started doing a little film work on the side during those six Fresh Prince years. His first few films were not very successful, mostly, in my opinion, because they under-utilized Will. However, in 1993, a director named Fred Schepisi decided to take a chance on him and cast Will in the lead role of the film version of "Six Degrees of Separation," a movie that pretty much introduced Smith to the world of serious filmmaking. And when the action movie "Bad Boys" came out, he was thus introduced to the world of much-less-serious filmmaking, which has turned out to be pretty much his focus ever since. Which is not to say he isn't serious about making films and that his films are also not serious about making themselves. What I mean is, Will Smith movies tend to be light-hearted and fun. Or at least to be full of laser guns and aliens. Happily, Will Smith movies have also tended to be smart fun. And/or they have co-starred ex-Boyfriends like Tommy Lee Jones, Jeff Goldblum, and Harry Connick Jr. These facts combined have pretty much guaranteed that a Will Smith movie is a successful movie, which works very much in our favor, as it also guarantees there will be many, many more of them in the future.

For example, Will's latest movie, "The Legend of Bagger Vance," has just come out. And while it hasn't gotten the greatest of reviews, since when have any of us listened to real movie reviewers? We're much too smart for that. Next out, of course, is the highly anticipated "Men in Black 2," which we already know is going to be great. And following that, it looks like Will is slated to play Muhammad Ali in the biographical film "Ali" (due out in 2001). While it's a sure bet that "Ali" will not contain laser guns OR aliens, it's being directed by Michael Mann, and that's a pretty good sign. If anything, at least it means some Russell Crowe cooties will be around (Mann directed Crowe's Academy-Award winner, "The Insider"). Talk about Six Degrees of Separation. It's more like ONE degree here in the Boyfriend-world.

A little trivia about Will: in 1998, Will was chosen by People Magazine as one of the 50 Most Beautiful People in the world. So was Harrison Ford, whom Will says is one of his favorite big screen heroes (he even molded his character in "Independence Day" after Ford). Unlike Harrison, though, Will is rumored to have turned down a scholarship to MIT to pursue his singing career. Ordinarily, I would encourage a Boyfriend to pursue a back-up education like that. But we definitely forgive Will for ditching MIT, since it looks like he truly won't be needing that engineering degree after all (as evidenced by his multiple Grammy awards, among other things).

And though, as I mentioned previously, Will is happily married with three kids (Willard the Third (nicknamed "Trey"), Willow Camille Reign (nicknamed "Dang, My Name is Really Long") (no, I made that up), and Jaden Christopher Syre) it's okay with us, right? I mean, a date with one of the 50 Most Beautiful people is a date with one of the 50 Most Beautiful people, no matter how taken they already are. It's still going to be a blast hanging out with the adorably charming Willard Christopher Smith Jr. this week. All week. Day and night, night and day. And all the spaces in between.

Now for you oblivious folks from Mars -- if you've read down this far (despite my insults early on), you have by now a list of movies to get out there and rent. Trust me -- you'll never be able to fit in inconspicuously here on Earth if the phrase "Will Smith" draws a blank stare from you. Because the Fresh Prince is big, big, BIG down here on this planet. And not just because the boy can sing. Get your butts in gear, you guys (gals? its?). Or else it's back to the barren Red Planet for you (and we're not letting you keep Val Kilmer up there forever, you know).
| | |
| --- | --- |
| | MacGyver Factor Score: 98.6%. I gave Willard a pretty high score because the boy knows how to rhyme. And cuz it's about time we got a Boyfriend who could rhyme. One who'll never never mime, and one who'll always give a dime. Or a lime. Or, you know, whatever. |
---
Boyfriend-Related Links

A Will Smith Fan Site
The Willennium Site
The Men in Black Site
Will's IMDB Page
---
---
Back to my Homepage.